'Another noticeable drop' in inflation likely this year, says Bank of England Governor Andrew Bailey
21 September 2023, 19:00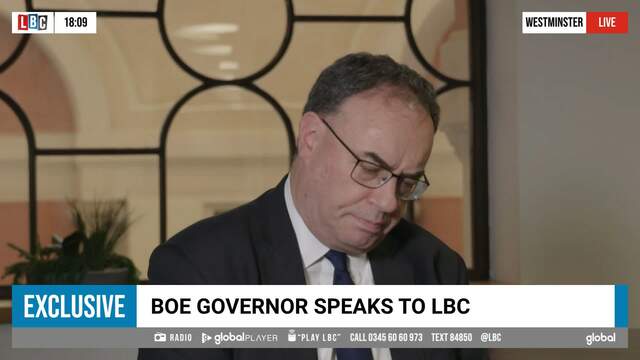 Andrew Bailey: The 'next noticeable drop' in inflation will be in October
The Bank of England Governor has said he expects there will be another 'noticeable drop' in inflation later this year after it unexpectedly fell to 6.7% in August.
It comes after it was revealed on Wednesday that the Consumer Prices Index inflation fell to 6.7 per cent in August, down from 6.8 per cent in July, the Office for National Statistics (ONS) said.
Speaking on LBC'S Tonight with Andrew Marr, Bank of England Governor Andrew Bailey said the number was a "very pleasant surprise" as it was "below where we thought it would be".
He said: "We've now reached the point where real incomes are now rising. I realise this has been a big shock, a very welcome shock to people's incomes. And again, the fact that so much of this inflation has been imported, coming back to food and energy, has played a big part in that.
"Now, we have got to a point where we've got positive household real income growth from that sense. And I think the important thing now is that as inflation starts to fall, and I hope people can be confident that they're seeing it fall, and that they will see it fall further, I expect the next noticeable drop will be in the October number released in November.
"Because of what happened a year ago when prices went up a lot. And that this will be taken into account in wage bargaining going forwards."
Read more: Bank of England keeps interest rates at 5.25% after 14 consecutive rises as inflation unexpectedly slows
Read more: 'We are finally starting to win this battle': Chancellor says the 'plan is working' as interest rate stays at 5.25%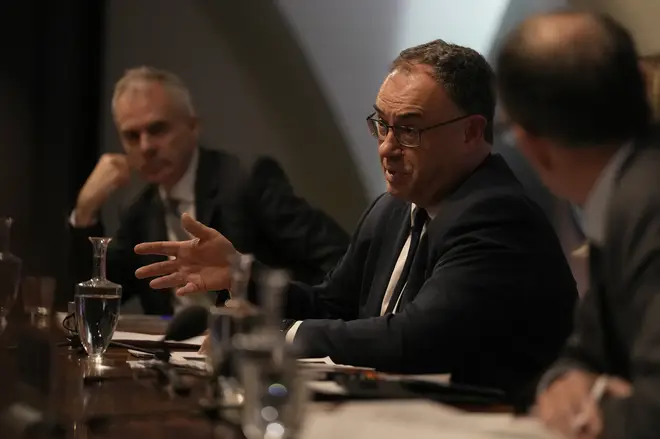 The Bank of England left its interest rate unchanged at 5.25% today as inflation slowed down to 6.7% in a huge boost to households.
Some observers expected it to rise to 5.5% today, the highest rate since 2008. Rates have been continuously hiked since November 2021.
Mr Bailey also said: "We have to stay the course. We're not back to the 2% target yet. We've got a way to go.
"I do believe that inflation is going to come down quite a bit further this year. But we've got to make sure it comes all the way back to the 2% target."
It comes after Chancellor Jeremy Hunt told Andrew Marr today's figures show the Bank of England thinks we 'may have' hit the peak.
"The fight against inflation never happens in a straight line," Mr Hunt added. "We are finally starting to win this battle."
In worse news, the Bank said the economy was likely being hit by increased borrowing costs so GDP would rise by just 0.1%, having forecast a 0.4% rise last month.
Bank of England also said the UK economy is now expected to grow at a weaker rate than previously expected amid "subdued" activity linked to the recent rise in borrowing costs.