Bank of England keeps interest rates at 5.25% after 14 consecutive rises as inflation unexpectedly slows
21 September 2023, 12:03 | Updated: 21 September 2023, 12:25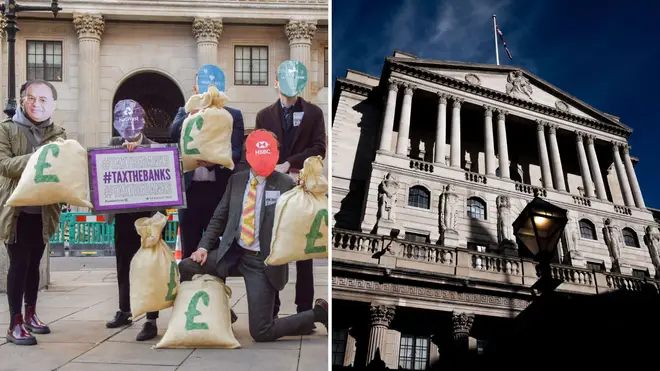 The Bank of England has kept interest rates at 5.25% after inflation unexpectedly slowed.
It decided against hiking it for a 15 straight increase as inflation slowed down to 6.7% in a huge boost to households.
Some observers expected it to rise to 5.5% today, the highest rate since 2008. Rates have been continuously hiked since November 2021.
But the Bank has now predicted weaker economic growth than it previously thought.
"We are starting to see the tide turn against high inflation, but we will continue to do what we can to help households struggling with mortgage payments," Chancellor Jeremy Hunt said.
Read more: UK inflation falls to 6.7% despite fuel price hikes
"Now is the time to see the job through. We are on track to halve inflation this year and sticking to our plan is the only way to bring interest and mortgage rates down."
Protesters dressed in masks of Rishi Sunak and bank logos handed money sacks to each other in a demonstration outside, with one holding a placard calling for taxes on banks.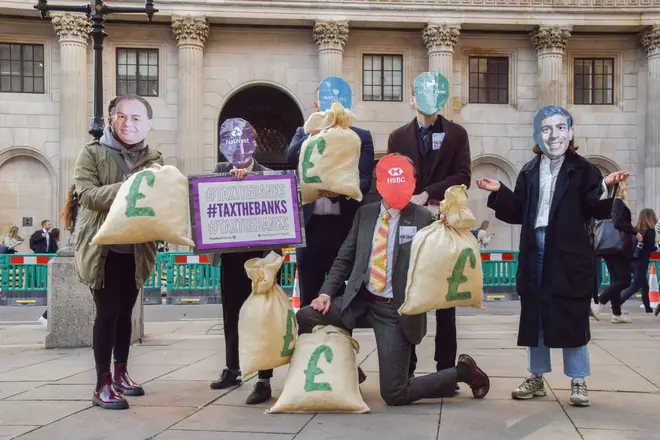 Bank of England governor Andrew Bailey said: "Inflation has fallen a lot in recent months and we think it will continue to do so. That's welcome news.
"But there is no room for complacency. We need to be sure inflation returns to normal and we will continue to take the decisions necessary to do just that."
In worse news, the Bank said the economy was likely being hit by increased borrowing costs so GDP would rise by just 0.1%, having forecast a 0.4% rise last month.
Read more: Hope for homeowners as interest rates 'near peak', Bank of England governor tells MPs
Bank of England also said the UK economy is now expected to grow at a weaker rate than previously expected amid "subdued" activity linked to the recent rise in borrowing costs.
It comes as living costs have spiralled since the end of 2021 with nearly seven in 10 (69%) people are concerned about their personal finances and ability to cover the essentials, according to a survey.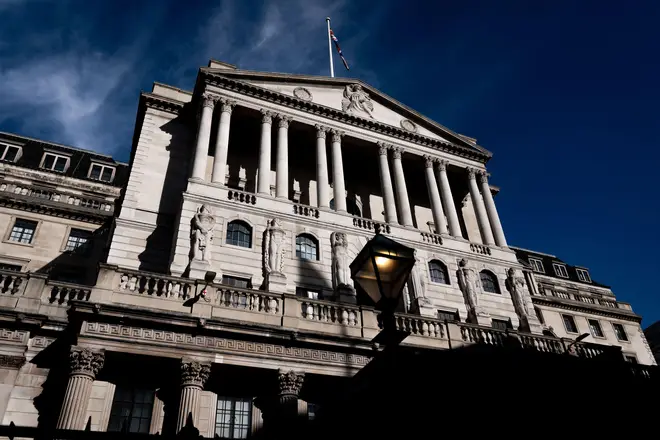 This is an increase from 57% who said this in July and 62% who felt this way in August, according to the research carried out for Nationwide Building Society.
A third (32%) of those in the latest survey said they are left with £100 or less in their account at the end of each month, with one in 11 (9%) saying they have no money left.  
Britain's shops meanwhile, are gripped by a shoplifting epidemic, with thefts rife as people have less money to pay for essentials.
Even basics like butter and baby formula are being put into security cases in supermarkets.
Updates to follow