UK inflation falls to 6.7% despite fuel price hikes
20 September 2023, 07:09 | Updated: 20 September 2023, 08:13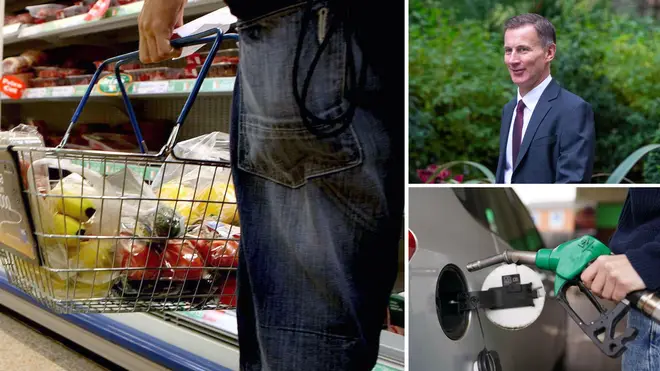 UK inflation has seen a surprise fall to 6.7% despite hikes in fuel prices.
A drop in hotel and air fare costs and a slowdown in food price rises helped offset a jump in fuel costs.
Consumer Prices Index inflation was 6.7 per cent in August, down from 6.8 per cent in July, the Office for National Statistics (ONS) said.
It marks the lowest rate since February last year, despite analysts predicting inflation would accelerate last month to a reading of 7.1 per cent.
There has been a sharp rise in motor fuel in recent weeks due to a rebound in oil prices.
Read more: Children as young as three preyed upon online as Braverman attacks Facebook plans to 'go dark' detecting child abuse
Read more: Former Mayor of London Ken Livingstone diagnosed with Alzheimer's disease
Inflation never falls in a straight line but it's now down 40% from it's peak. The plan is working.

But we need to stick to it: even at 6.7% there's still immense pressure on family budgets. That means no borrowing binge, which would simply keep interest rates higher for longer

— Jeremy Hunt (@Jeremy_Hunt) September 20, 2023
The drop means the Bank of England may be less likely to raise interest rates in an update on Thursday.
Chancellor Jeremy Hunt said it showed "the plan to deal with inflation is working - plain and simple".
He added: "It is still too high which is why it is all the more important to stick to our plan to halve it so we can ease the pressure on families and businesses. It is also the only path to sustainably higher growth."
Despite the fall, shadow chancellor Rachel Reeves said: "The UK is forecast to have the highest inflation of any major economy this year.
"The Prime Minister is too weak to turn things around, while his predecessor Liz Truss continues to call for the same policies that crashed the economy this time last year.
"The Conservatives have wreaked havoc and working people are paying the price."
She claimed a Labour government would "grow our economy so we can increase living standards, bring down bills and make working people in all parts of the country better off".