Andrew Pierce Won't Let Remainer Get Away With "Distorting" Brexit Figures
29 December 2017, 12:22 | Updated: 29 December 2017, 13:34
This call from a Remainer advocating a second referendum descended into chaos when Andrew Pierce accused him of "distorting" figures about the UK economy.
Jason in Sutton called LBC after Jeremy Corbyn stopped short in ruling out another Brexit vote if he was to become prime minister in an interview earlier this week.
The Labour leader said his party was "not advocating" another referendum on EU membership, but did not eliminate the possibility altogether.
Jason said he was in favour of a second Brexit vote and told Andrew his reasonings why.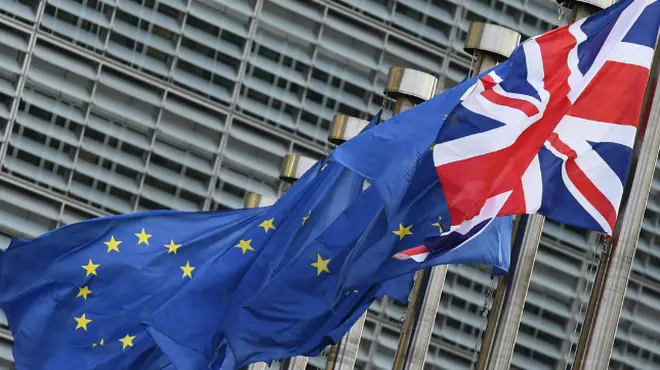 He said: "By October next year we will know what state the country is in, we will know what Brexit actually means.
"We'll have 90 per cent of the negotiations done and what the Brexit deal will look like.
"If you look at the figures, at the end of 2015, the United Kingdom economy was worth just over three trillion dollars, at the end of this year, two years later and a referendum, we've lost 500 billion dollars out of our economy.
"We've lost 27,000 jobs just in the City of London, we've lost Japanese banks that have already moved to Dusseldorf."
But, Andrew at this point interjected as he hit back: "I keep hearing this about the Japanese banks, how many jobs have left the City Jason?
"Because do recall when you present these bias statistics that it's the lowest unemployment figures in Britain since 1974.
"It's the highest employment figures in Britain ever, the stock market yesterday recorded an all time high and exports reached the best levels in Britain since 1988 under Margaret Thatcher - why do you never quote those figures?"
Becoming more fired up, Andrew added: "You can't have it you lot, you will not see that the Armageddon apocalyptic predictions of George Osborne and the rest were too severe."
Watch the call unfold in full in the video above.