Rishi Sunak 'doesn't pay a very high tax rate', says Open Democracy CEO
22 March 2023, 17:48 | Updated: 22 March 2023, 17:55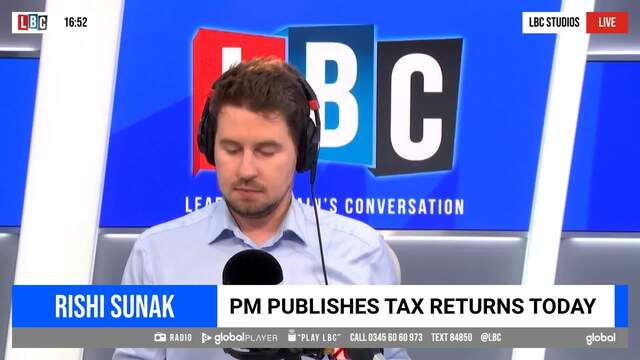 CEO of Open Democracy Peter Geoghegan breaks down Rishi Sunak's tax return
CEO of Open Democracy Peter Geoghegan explains how the Prime Minister's tax is low for somebody who "has a lot of money".
The CEO of Open Democracy Peter Geoghegan told Ben Kentish that even though Rishi Sunak's tax return detailed that he paid £432,493, the Prime Minister "doesn't actually pay a very high rate of tax" for what he earns.
Mr Geoghegan explained: "The headlines lots of people will talk about is he's paid over £1million in tax in three years, which is true, but if you dig down beneath it, you'll also see that because so much of Rishi Sunak's income comes from investment capital, he's effectively paid a marital tax rate of 22% on an income of just under £2million in the last year."
"Someone like Rishi Sunak, who has a lot of money, actually doesn't pay a very high rate of tax. The amount of tax he's paid is a lot but the rate is a lot less than the likes of you and me who are on PAYE contracts," the CEO said.
READ MORE: PM's new Brexit deal for Northern Ireland receives backing of MPs - despite Boris Johnson and Liz Truss revolt
"For someone like Rishi Sunak, the £150,000 he gets as Prime Minister only represents about 10% of his income last year. For him, he's got lots of income from other things and because those other things are capital and investments, they're taxed way lower.
"He's paid a lot of tax because he's made a lot of money, he's very wealthy," Mr Geohegan highlighted.
"This is somebody who, from capital alone, has made over about £3.5million in the last three years... he hasn't gone out and actually had to earn that income, that's income generated from investments he has," the Open Democracy CEO stated.
READ MORE: 'Hand on heart, I did not lie to you': Boris comes out swinging in bid to save career before MPs pass judgement