John McDonnell: Chris Grayling Should Be Fired Over East Coast Rail Debacle
10 February 2018, 15:41
The Shadow Chancellor told Matt Frei that Chris Grayling should be fired over the government bailout of East Coast Rail.
For the third time in a decade the private contractor charged with running the East Coast rail line has run out of money. Virgin Trains East Coast franchise is teetering on the verge of collapse, just like GNER in 2007 and National Express 2009.
During a conversation with LBC's Matt Frei the Shadow Chancellor John McDonnell called on the Transport Secretary Chris Grayling to be fired for his handling of the situation.
McDonnell said that "East Coast line was in crisis, it was brought into the public sector... and actually made money for the treasury." But now it had been put back into private hands "and yet again the franchise is now collapsing."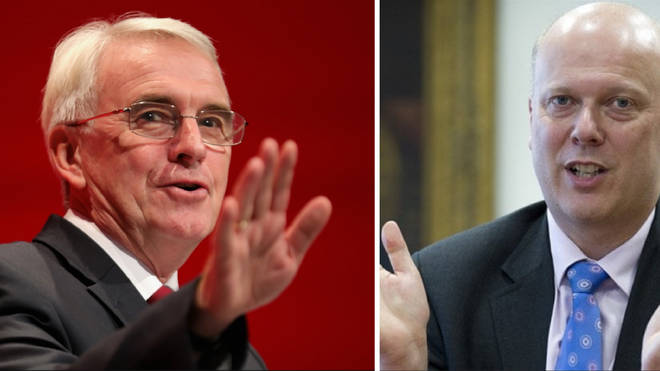 He continued to say that it was "annoying" that Virgin was supposed to put two billion pounds into the service, but will now walk away from that commitment.
McDonnell said that Grayling should be fired, pointing to his history at the justice department as proof that the current Transport Minister wasn't capable or running a government department.
He finished by saying "I wouldn't put him in charge of a whelk stall."