Nigel Farage Demands "Bias" John Bercow Is Given The Boot
27 March 2018, 20:12 | Updated: 27 March 2018, 20:23
Nigel Farage has demanded John Bercow is removed as Speaker of the House of Commons because he is "incapable" of being impartial.
The LBC presenter tore into the Speaker for his "over the top" response when reprimanding Boris Johnson on Tuesday.
Mr Bercow accused the Foreign Secretary of "sexism" after he addressed Labour's Emily Thornberry as "Lady Nugee".
He said the reference, which related to her husband, Sir Christopher Nugee, was inappropriate.
But, Nigel described the Speaker's response as "painful" - as the role usually requires the holder to remain neutral.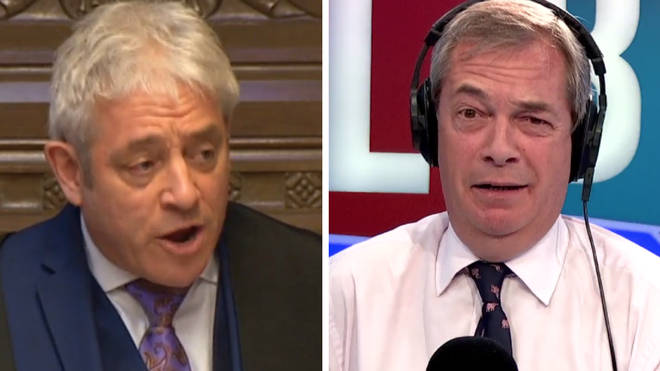 He thundered: "Who does this person think he is?
"Is this the Messiah who has come back to correct us all and put us on the right path?
"It is arrogant, it is stuck up, it is full of virtue signalling and more importantly he again and again and again is incapable of being impartial - he clearly takes the other side of the argument."
It's not the first time Nigel has highlighted the Speaker's "bias" after he called him out for having a "b******* to Brexit" car sticker displayed in his Ranger Rover.
"He's not impartial," the LBC presenter continued. "My view is that it is time for him to be removed.
"In a year and two days, we're going to get back the independence of our nation and with it the sovereignty of the people of this country and they'll be represented in parliament.
"Surely a sovereign parliament back in charge of our nation's affairs deserves better than this!"
Watch Nigel's monologue in full above.