Nigel Farage WILL Return To Frontline Politics If Brexit Is Delayed
4 July 2018, 20:18 | Updated: 4 July 2018, 20:22
Nigel Farage has confirmed he will return to frontline politics if Brexit is delayed beyond March 2019.
The LBC presenter and former Ukip leader said he would have "no choice" but to make his comeback if Article 50 is extended.
Britain is set to officially leave the European Union on Friday 29th March next year.
But there are some calls for that date to be pushed back to allow more time for a deal to be struck.
Theresa May will meet with her Cabinet at Chequers on Friday to finalise the Government's Brexit policy.
And if the Prime Minister softens on her red lines, caller Craig asked Nigel whether he'd return to the helm.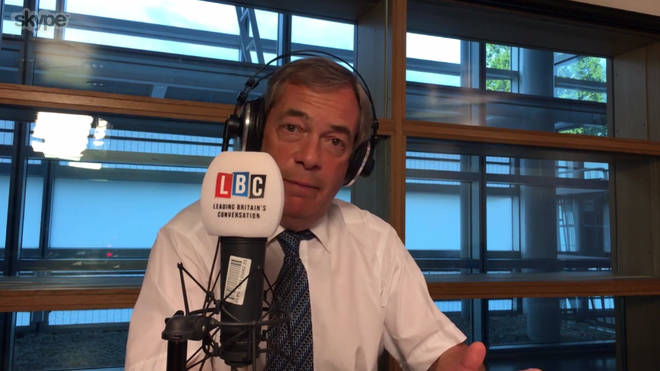 Broadcasting from the EU Parliament in Strasbourg, Nigel replied: "If they were to delay the implementation of Article 50, and we didn't even leave the treaties on the 29th March 2019... if they did that Craig, in that situation that would be outright, full and clear for the public to understand betrayal and in those circumstances I would have no choice."
He added: "I hope it doesn't happen, this is my 20th July in Strasbourg, I've done my bit in elected politics - I never want to have to do it again ever, ever ever, but if they drop the ball I'll have no choice."
Watch Nigel's remarks in full in the video at the top of this page.