Nigel Farage: Ukip With Tommy Robinson Will Become The BNP
2 December 2018, 11:29 | Updated: 2 December 2018, 12:41
Nigel Farage has said that a Ukip party with Tommy Robinson "will become the BNP".
Speaking on his LBC show, the former Ukip leader said that he will consider leaving the party if a Brexit march in Ukip's name takes place with Tommy Robinson as a speaker.
Nigel Farage fears that a march lead by his party would undermine the reason why people voted for Brexit.
"You couldn't effectively argue against excess immigration, illegal immigration, if you had people who were racists within the party," Nigel Farage said. "And I think that's what this does."
"If this march goes ahead with Gerard Batten as the leader of Ukip, then Ukip becomes the new BNP."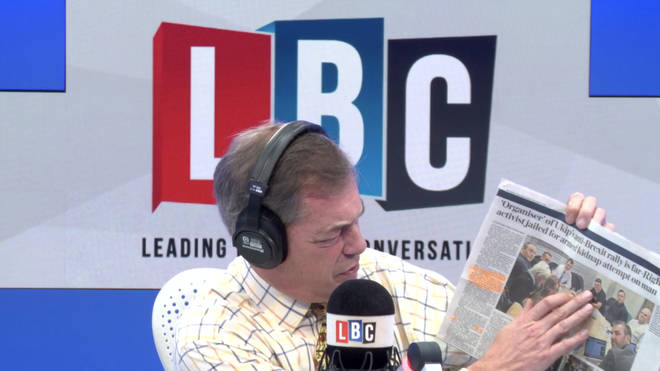 "He's somebody who attracts around him a group of thugs," Nigel said.
"Whenever there's a march, a rally, where Tommy is appearing, there are lots of arrests, police horses get attacked, beer bottles get chucked in the street. And I'm afraid that's what comes with him.
"He also himself has been to prison.
"And you maybe can be an online figure with that background, but I don't think it works with elected party politics in any way at all."