Bar Fight Descends Into 20-Man Mass Brawl With Stools And Glasses Thrown
22 February 2018, 13:29 | Updated: 28 October 2019, 15:21
This is the moment a bar fight in Leeds descended into a 20-man mass brawl with chairs and glasses used as weapons.
Police have released CCTV of the savage disturbance which broke out in the early hours of Saturday in The Arc, Headingley.
It's believed the fight started with a confrontation between two people which then turned incredibly ugly.
Police estimate 20 men were involved in the brawl which saw stools and glasses being thrown across the bar before running from the scene.
A 28-year-old man was later found with a wound to the head and has been treated at hospital.
Officers says a 21-year-old man was arrested on suspicion of violent disorder and has been released under investigation.
Det Insp James Entwistle said: "These were some very ugly scenes where people were punched, kicked and stamped on and glasses and chairs were thrown.
"The video shows how there was very little that the bar's security could do to control the situation and it was clearly a shocking thing for staff and other people in the bar to witness.
"We are treating this as an incident of violent disorder and are carrying out enquiries to identify those involved."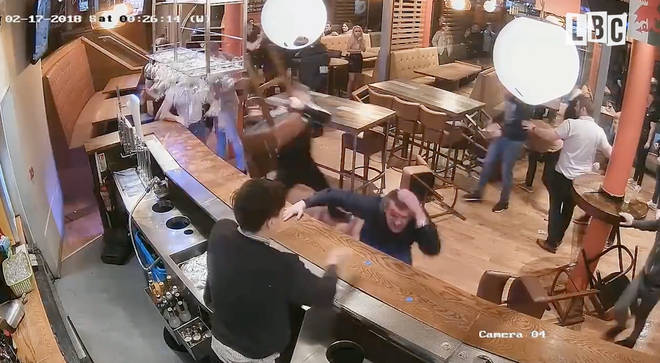 He added: "We do have very clear CCTV footage that captures the whole incident and are working through that in detail to identify the main suspects.
"We would like to hear from anyone who knows the identity of any of those shown fighting in the clip we have released or who recognises themselves as a witness."
Anyone with information is asked to contact Detective Constable 6722 Craig Mason via 101 quoting crime number 13180079662 or call the independent charity Crimestoppers anonymously on 0800 555 111.
You can watch the brawl in full above.