Fearless Boy Tries To Attack Robbers Who Took His Dad Hostage
5 June 2018, 11:54 | Updated: 28 October 2019, 15:21
This is the remarkable moment a six-year-old tries to attack robbers as his dad was taken hostage during armed raid on shop.
A six-year-old boy came to his dad's rescue as he was held at gun point during a robbery.
CCTV shows the moment the child risked his life to confront the man holding his dad hostage during the raid in Brazil.
One of the men threatens the store owner and empties the till, while one held the boys father in a headlock.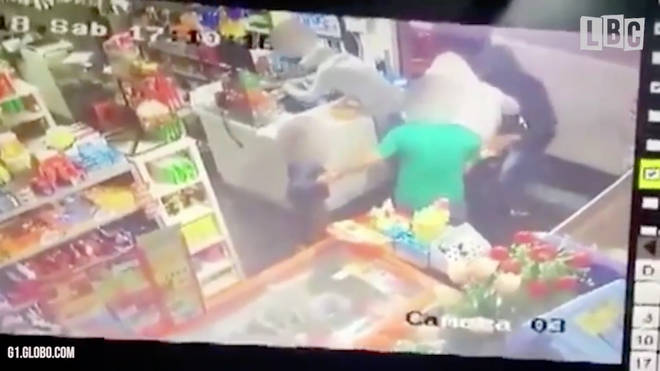 The footage shows the father, who was wearing a turquoise t-shirt, ushering his son back with his free hand.
With his son at arms length away from the attackers, he handed over his wallet to the thieves.
The hooded criminals left with the wallet and the contents of the till without anybody being injured.
The incident, which took place in Brazil, is reportedly the third armed raid on the store this year.