The Shocking Moment A Man Is Punched To The Ground In Trafalgar Square
9 April 2018, 11:33 | Updated: 28 October 2019, 15:21
A murder investigation is launched after the death of a man who was assaulted in Trafalgar Square.
Police are appealing for witnesses to an assault in Trafalgar Square in June 2017 that resulted in the death of a 51-year-old man.
Desmond O'Beirne from Westminster was attacked outside the National Gallery by two men.
Shocking CCTV footage shows the moment he is punched to the ground by one man, and then kicked by a second.
The two men walk off with a larger group, before two women approached Desmond as he lay on the floor.
London Ambulance Service attended and treated him at the scene, but he died in hospital six months later as a result of the injuries.
A murder investigation has been launched following the man's death.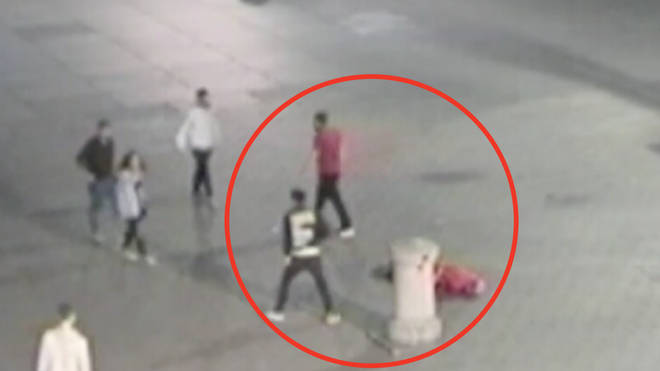 Vivienne Folan, Desmond's sister, described him as "hard working" and "larger than life".
She said her brother had suffered a "traumatic brain injury" and remained in a "vegetative state" in hospital following the attack.
"I am trying to get justice for Desmond, his two attackers were very distinctive and part of a larger group. I hope that witnesses and those from that group who did not know how serious the attack was will now come forward."
Detective Chief Inspector Noel McHugh said: "Desmond was an inoffensive man, a big man and character.
"The CCTV shows that he was senselessly attacked and he never stood a chance."
A reward of £20,000 is available to anyone providing vital information to the police.
The first suspect, who is seen punching the victim in the back of the head, was wearing a red t-shirt with dark trousers and light coloured shoes. He had a top knot hair style and a full beard.
The second suspect, who kicked the man once he was on the ground,, was wearing a black jacket with a white emblem on the right shoulder and a picture on the rear. He was also wearing a white top under the jacket, with dark trousers. His dark shoes had white soles.
Anybody with information can contact the incident room on 020 8785 8099. To give information anonymously call Crimestoppers on 0800 555 111 or visit crimestoppers-uk.org.