Police use car to ram rider off stolen motorbike
5 February 2020, 06:32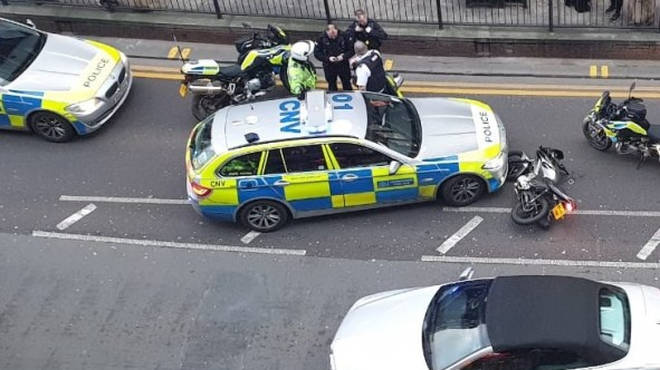 Specialist police officers have used a controversial tactic to halt a stolen motorbike which refused to stop for police.
Officers from the Met's Operation Venice, the unit which deals with moped enabled crime, were deployed on White Hart Lane on Tuesday when they saw a stolen motorcycle.
When they chased the bike the rider refused to stop for police motorcycles, the pursuit continued as far as Wood Green High Road.
A marked police vehicle then used "tactical contact" to ram the rider off the bike.
Scotland Yard said the tactic was successful and the rider then was chased by officers into Wood Green Shopping Centre where he was eventually arrested.
The man, aged in his was arrested on suspicion of theft of a motorcycle, dangerous driving/riding, failing to stop and possession with intent to supply class B drugs. He was further arrested for driving whilst disqualified.
He has been taken to hospital as a precaution and remains in the custody of officers.
Previously, the Metropolitan Police said the tactic means specially-trained drivers are able to ram moped riders to reduce the need for pursuits and prevent injury occurring to offenders and members of the public.
Senior officers have said there is no maximum speed for police cars to hit mopeds and it is a common misconception among moped thieves that officers will end their pursuit if the suspect drives dangerously or removes their helmet.