Teen Driver Rams Police Officer Into Barrier After High-Speed Chase
16 July 2018, 16:00 | Updated: 28 October 2019, 15:21
Shocking dash-cam has been released of the moment a teenage driver rammed a police officer into a roadside barrier following a high-speed chase.
Surrey Police has released footage showing Ramone Kidd, 19, drive at Sgt Chris Schultze in the early hours of 13 June.
It's as officers followed Kidd, from Sutton, south London, after his vehicle was linked to a burglary.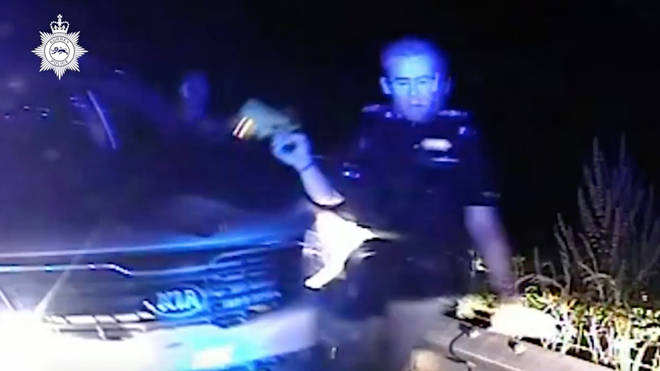 The video shows officers trying box the 19-year-old in before jumping out and smashing his windows on the A22 near Godstone.
But, Kidd then appears to deliberately drive into Sgt Schultze, pushing him along the roadside barrier.
Kidd has been jailed for 23 months after admitting dangerous driving, driving whilst disqualified, driving whilst unfit through drink/drugs and actual bodily harm.
Speaking after sentencing last week, Det Sgt Kerry said: "The role of a police officer is to protect the public, and each day officers put their lives at risk to apprehend suspects and protect the public.
"During this particular incident, officers attempted to stop the vehicle, and in doing so, three officers received injuries and four police vehicles sustained damage."