Gig Economy Workers March Ahead Of Uber Appeal Over Employment Rights
30 October 2018, 10:06
Workers from the gig economy are staging a demonstration this morning ahead of the latest legal hearing over their employment rights.
Uber is going to the Court of Appeal, challenging a ruling that its drivers are workers, and therefore entitled to things like annual leave and the minimum wage.
As well as Uber workers, Deliveroo drivers, couriers and foster care workers are part of the demo.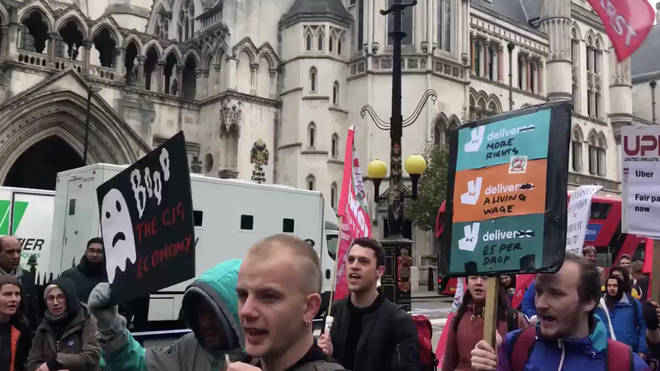 One person on the march told LBC why he's backing the protest.
"There's consistently an assault on precarious workers and their conditions, so we're out her today to show solidarity. Not just with Uber drivers, but with Deliveroo workers.
"If we're sick, which happens a lot because of working in all weathers, we get no sick pay, no relief for that."
Dave Ward, the chief of the Communications Workers Union, spoke at the protest and he will join Iain Dale from 8pm tonight to take your calls.