Sweary Showdown Between Cyclist And Cabbie After Collision
26 October 2016, 07:26 | Updated: 26 October 2016, 11:01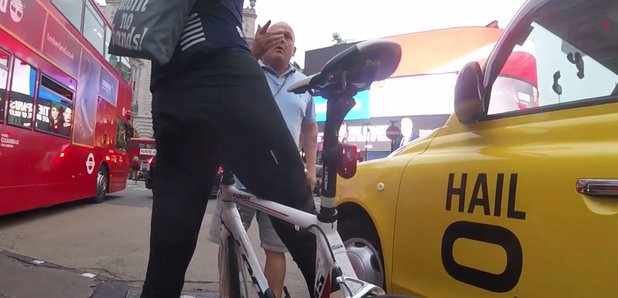 (CAUTION: Contains offensive language)
Who's in the wrong? That's the question we're asking after this dramatic confrontation between a cyclist and a very angry cab driver was caught on camera.
The incident was uploaded to YouTube by user Ross Holdsworth after reportedly being recorded yesterday morning (October 24th) in central London.
The opening minute of footage shows a cyclist weaving through traffic. He pulls up at a red light, where a yellow taxi has stopped as well as a number of cyclists.
As the road users move off, the cyclist and taxi collide, sparking a furious confrontation.
The taxi driver gets out, shouting at the cyclist: "I didn't drive into no one, I'm coming up here.

"You hit me f***ing cab. Pull over there, we'll call the police."
The cyclist whose helmet camera is recording the entire incident shouts: "It's alright, I've got a camera, mate."

"I've got a camera in here," yells the driver. "I ain't cut in front of nobody."
"You drove into him," says the cyclist.
"I didn't drive into anyone."
"I've got a f***ing camera too! You f*** off!"
Watch the video above - here's some of the opinions you've shared with us so far:
@LBC the cyclist should not of cycled so slowly in front of the taxi!

— MrSun (@cmanz83) October 26, 2016
@LBC Taxi passed too close. Tip for cyclist: ride in middle of the lane it prevents drivers trying to squeeze past. Defensive riding.

— Tim H (@Timzere65) October 26, 2016
@LBC Ironic sign writing on that cab.. "HURRY UP AND RELAX"

— Kitch (@Kitch_86) October 26, 2016