Inches From Death: Van Driver's Reckless Overtake Caught On Camera
29 November 2018, 15:53 | Updated: 29 November 2018, 16:03
A van driver came within inches of being crushed by two HGVs after attempting one of the most reckless overtakes.
The terrifying manoeuvre was captured on one of the lorry's onboard cameras in Somerset earlier this week.
The van driver was seen pulling onto the wrong side of the road - despite a large "SLOW" warning.
A collision with the oncoming lorry seemed inevitable, but the motorist came off unscathed thanks to the quick reactions of the lorry driver.
The shocking incident has been widely condemned on social media.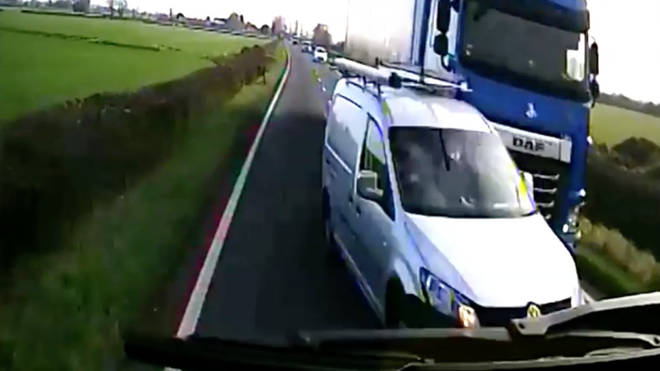 One viewer wrote: "What an ignorant f****** b******. Other cars on the road. He could have killed someone."
Another added: "What an absolute idiot!"
A spokesman for Avon and Somerset Police said: "We were made aware yesterday of dash cam footage circulating on social media and are currently working to locate the driver of the other vehicle in the video."