Four Peckham Tower Blocks To Be Evacuated Over Fears They Might Collapse
11 August 2017, 07:16 | Updated: 22 August 2017, 09:55
Hundreds of homes in four tower blocks in south London are going to be evacuated over concerns the buildings aren't safe.
The gas supply was switched off with immediate effect on Thursday.
Southwark Council apologised for the inconvenience but says it is "not willing to take any risks" at Ledbury Towers following the Grenfell disaster.
The four towers contain 242 flats, meaning hundreds of people will need to be re-housed.
LBC's Rachael Venables reports from Peckham: "After the Grenfell Tower fire, inspectors were sent in to check these four buildings for safety issues, including large cracks that had been seen for years rising up the walls.
"But they then found a historic problem with the gas supply."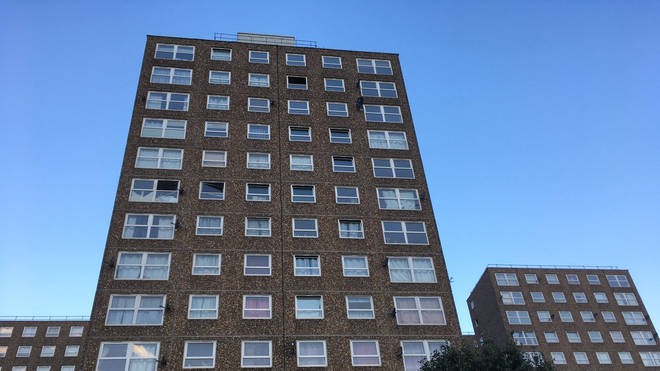 One resident John told LBC: "In some flats, you can put your whole hand through the crack to your next-door neighbour or shake hands with the person on the floor below.
"If it's taken them 16 years to realise that something is wrong, then that is total neglect."
Darren lives in one of the four blocks and told LBC that people are scared. He said: "I've been telling them the issues about the cracks since I've moved in. It goes from the floor right up to the ceiling and then from the ceiling on the edge, right across to the other wall.
"At one point, I could see into the flat next door and the flat below.
"To me, it seemed quite dangerous."
The buildings share a design with Ronan Point, a, East London tower block that partially collapsed in 1968, killing four people in a gas explosion.
Stephanie Cryan, deputy leader at Southwark Council, said: "Arup's structural investigations suggest this strengthening may not have occurred, and we have therefore turned off the gas, until further investigations can be done.
"We are doing all we can to provide residents with alternatives while the gas is turned off, and are working up a plan to permanently replace the gas with electric ovens, boilers etc as part of the wider works, should that be necessary.
"We have also written to the Department of Communities and Local Government to inform them of this issue, as it may well have implications for other blocks around the country that were constructed in this way."