Stunning Eagle-Cam Footage Gives Ultimate Bird's Eye View Of London
21 August 2018, 15:18 | Updated: 21 August 2018, 16:17
An eagle released from the top of the London Eye captured the ultimate bird's eye view of London.
Professional eagle handler Chris O'Donnell released a white-tailed sea eagle from the very top of the Eye at the crack of dawn.
With a camera attached to its back, the bird of prey flew over the River Thames and circled around the iconic landmark, and the footage is breathtaking.
Describing the film as a "perspective of London we wouldn't typically see", Mr O'Donnell said: An eagle has remarkable vision, allowing them to see far and wide.
"Observing the London skyline from above while feeling like you're also part of it, that's something special."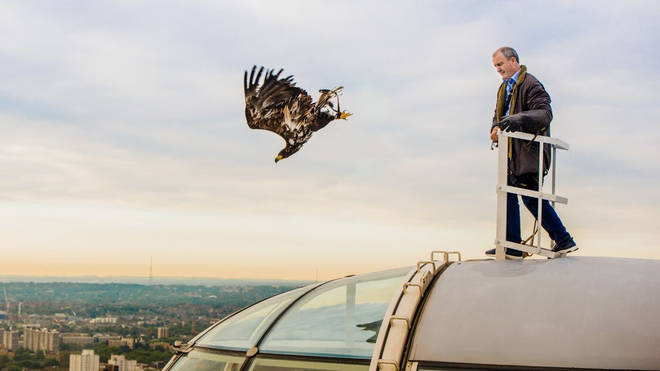 Sunny Jouhal, general manager at the Coca-Cola London Eye, said: "The London Eye is famous for offering the most dynamic views of London, being both part of and overlooking the skyline.
"However, we wanted to take it one step further; the 'Eagle Cam' provides a completely new perspective of the city brought to life in a visually unique way."
Watch the spectacular video at the top of this page.