Oxford Street To Be Pedestrianised, Mayor Sadiq Khan Announces
6 November 2017, 09:00
Mayor Sadiq Khan has announced plans to pedestrianise a large section of Oxford Street.
The area from Oxford Circus down to Selfridges would be closed to all buses and cars to allow people to walk across the full width of the road.
The Mayor said he wanted the street to be cleaner and safer, turning it into the world's best outdoor shopping experience.
City Hall released pictures of what they hope it will look like.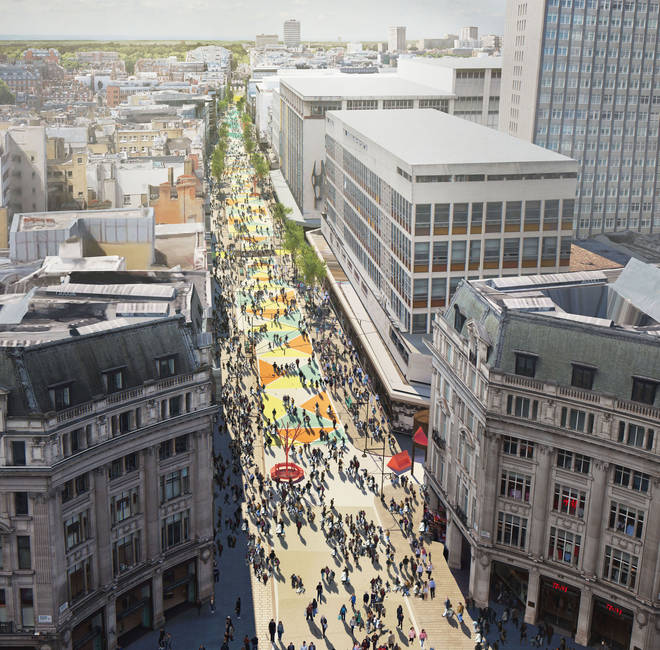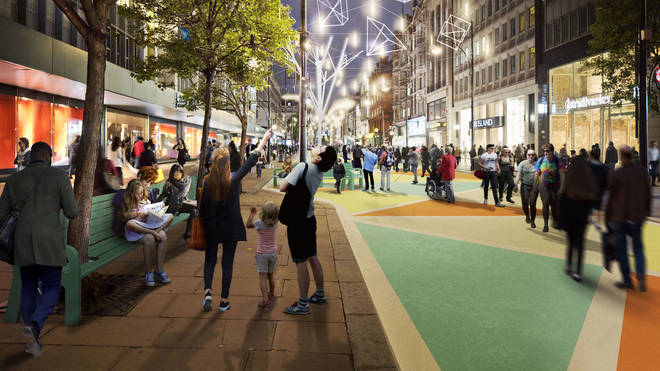 Mayor Sadiq Khan said: "This is a hugely exciting moment for the capital. Oxford Street is world famous with millions of visitors every year, and in just over a year the iconic part of the street west of Oxford Circus could be transformed into a traffic-free pedestrian boulevard.
"Whether you're a local resident, a business, or shop in some of the area's famous stores, our plans will make the area substantially cleaner and safer for everyone, creating one of the finest public spaces in the world.
"Alongside the arrival of the Elizabeth Line, the Oxford Street area will be truly transformed over the coming years. We will continue to work closely with residents, businesses and Westminster Council to ensure the plans are the very best they can be, including investing in wider pavements, pedestrian crossings, more taxi ranks and further high-quality cycling infrastructure to support everyone living and working in the wider area."
Cyclists would also be banned from the street, while buses would be rerouted to run along Wigmore Street, Henriette Place and Cavendish Square.
A consultation will also start on pedestrianising the section from Oxford Circus to Tottenham Court Road next year.