Pro-Brexit Protesters Steal Cyclist's EU Flag During Rally Outside Downing Street
16 January 2018, 13:36 | Updated: 16 January 2018, 13:44
The moment a cyclist had his EU flag stolen by a group of protesters attending a pro-Brexit rally has been caught on camera.
The baying group descended upon the man as he attempted to get off his bike outside Downing Street on Sunday.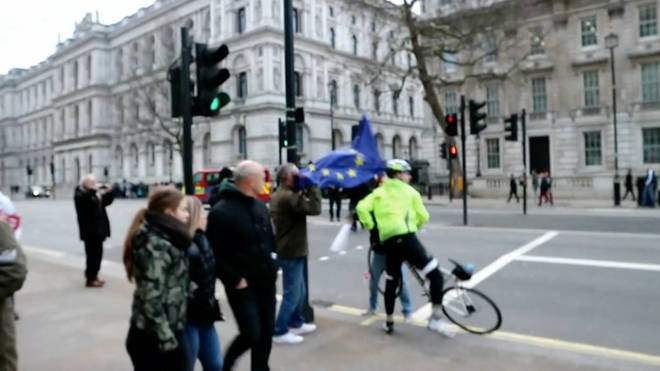 They had gathered for a non-partisan pro-Brexit protest, attended by Stephen Wolfe MEP, along Whitehall.
In the video, one unknown man can be seen ripping the large flag off the cyclist while the rest of the crowd cheers.
The victim tries to walk away with his bike beside him but comes under a torrent abuse.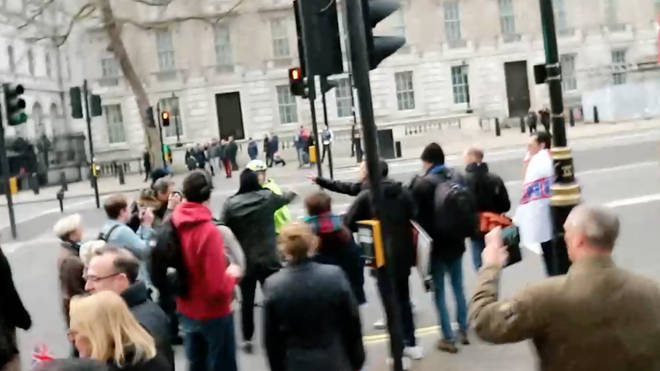 Amid the chaos one woman was filmed shouting: "We voted for it, we voted Leave", as the crowd spills on to the road.
Another protester can be heard shouting "traitor" - before they allow the traffic to once again pass.
Watch the moment unfold in the video at the top of this page.