Schoolchildren Wade Through 5-Foot Flood As Watermain Bursts In Hackney
3 October 2018, 12:35
A burst watermain in an east London car park has left cars completely submerged.
The underground car park on Lea Bridge Road in Hackney has water over 5-feet deep.
Crews are using pumps to remove as much water as possible, while firefighters rescued a man from a flat and woman from a shop using an inflatable boat.
It may have been completely flooded, but that didn't stop intrepid school children from climbing out of their window and wading their way through the water to get to school.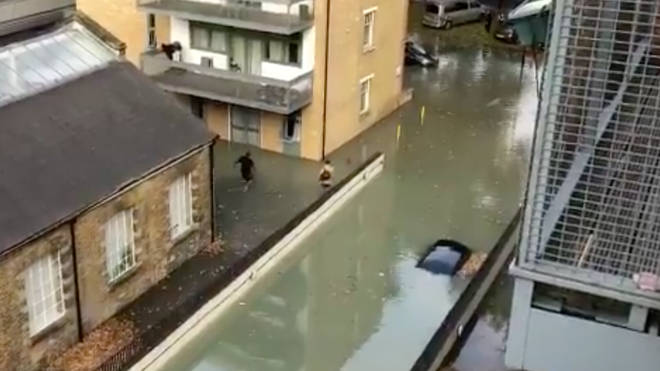 The London Fire Brigade said: "Four fire engines from Homerton and Stoke Newington fire stations are at the scene. Two fire rescue units from Bethnal Green and Euston are also at the scene. Around 40 firefighters are in attendance.
"The Brigade was called at 0849."