Has Croydon Cat-Ripper Struck Again... In Richmond?
8 March 2016, 09:37 | Updated: 11 August 2016, 13:39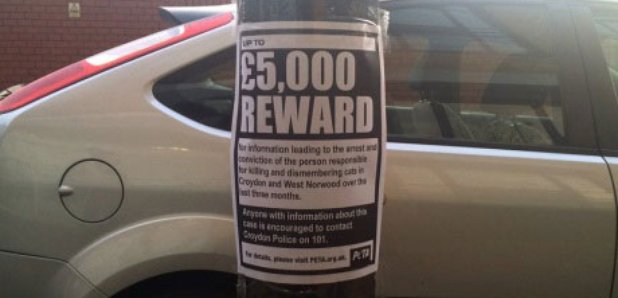 There are fears the Croydon cat-ripper may be branching out in south London after another cat was found mutilated in Richmond.
There have been horrific reports of cats being disembowelled and decapitated in Croydon in recent months.
As many as 50 animals - mostly cats - are thought to have been mutilated by the so-called Cat Ripper of Croydon over a period of three years, although the number of cases has risen dramatically in recent months.
The RSPCA is looking into roughly 10 of those in all of which the cats had their heads and tails chopped off.
The most recent cases prior to yesterday's were recorded in Tottenham Hale and Streatham - two areas more than 14 miles apart.
There are concerns the killer is keeping the heads and tails so they can "re-live the moment" of slaughter.
There are now fears he may be still at large following the discovery in Richmond, south-west London, this weekend.
Animal cruelty charity PETA have offered a £5,000 reward for information leading to the arrest of the cat ripper.
Martin Clunes, who grew up in Croydon, has urged police to catch the perpetrator, saying: "The local community is understandably distraught and frightened. No one feels safe while this sick individual is on the loose.
"Research in psychology and criminology shows that people who commit acts of cruelty to animals don't stop there – many of them move on to their fellow humans. That is a scary thought indeed."