Moped Gang's Brutal Mugging Of 52-Year-Old Woman Caught On CCTV
11 August 2017, 08:39
The moment a moped gang viciously mugged a 52-year-old woman to steal her gold necklace has been caught on CCTV.
The Met Police released footage of the brutal attack, which happened as the woman waited outside a Hindu Temple in Lewisham on Tuesday 20th June at 4.40pm.
The suspect, wearing a crash helmet, grabbed her gold necklace - valued and £600 - and tried to wrestle it from her neck.
When the woman resisted, she was dragged to the ground and manhandled before the necklace eventually came off.
Two mopeds were on standby and the assailant got on one as a pillion ride and sped off.
The suspects are described as:
Suspect 1 [ref: 253378] was wearinga black crash helmet, white shirt, a dark blue jacket with grey trousers and black shoes.
Suspect 2 [ref: 253380] was wearing a black crash helmet, blue shoes and a grey tracksuit with white stripes.
Suspect 3 [ref: 253381] was also wearing a black crash helmet, a grey hooded top, dark trousers and white trainers.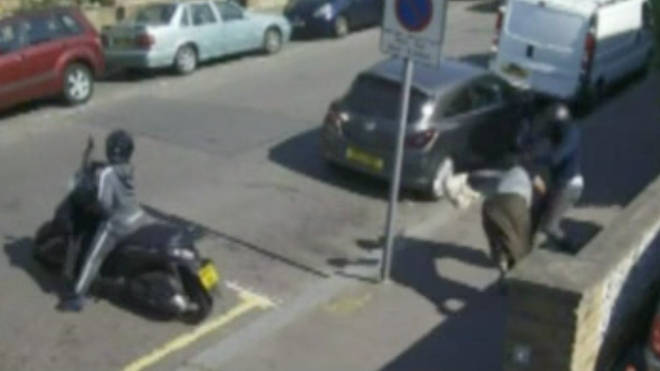 Detective Constable Alexander Hamilton said: "We are urgently seeking any information regarding this nasty crime, which has left the victim shaken from her ordeal. Please come forward if you know anything, witnessed anything, or you know who the men in the CCTV images are."
Anyone with information can call Lewisham CID via 101. To give information anonymously contact Crimestoppers on 0800 555 111 or visit crimestoppers-uk.org.