Motorist Repeatedly Drives At Cyclists In London Road Rage Row
2 August 2018, 13:37 | Updated: 2 August 2018, 13:43
An Audi driver repeatedly tried to ram a group of London cyclists in a heated road rage row which was caught on camera.
The altercation occurred on Cycle Superhighway 7 in Stockwell, south London on Tuesday.
Footage, filmed by one of the cyclists, begins with the driver throwing cans at the group from inside his car.
He repeatedly shouts: "Move from my car bruv".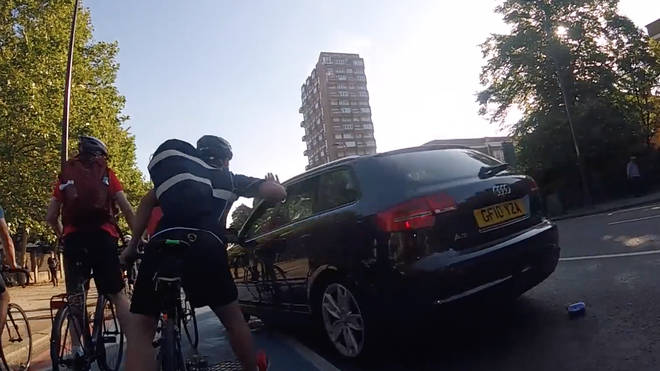 The motorist is then seen accelerating towards one cyclist, pulling back last minute before continuing his journey up the road.
But, seconds later, the car appears to knock one rider off his bike.
As the group catch up, the driver repeatedly drives aggressively towards them.
All of a sudden a police siren could be heard - prompting the motorist to reverse backwards trying to avoid detection.
Pointing the officer towards the vehicle, one cyclist yells: "He tried to drive and run someone over in his car!"
Uploading the video online, Nick Finegold wrote: "Please share this video and have this driver stopped before he hurts someone".