Angry Residents Shout "Coward" At Theresa May As She Leaves Kensington Church
16 June 2017, 18:04 | Updated: 16 June 2017, 18:30
Angry crowds hurled abuse and booed Theresa May as she left a church following a meeting with victims of Grenfell Tower at a Kensington church.
Warning: The clip above contains strong language.
The fiery crowd shouted "coward" and "shame on you" as the Prime Minister left the St Clements Church on Friday afternoon.
Dozens of people demanded answers and action following Wednesday's Grenfell Tower fire tragedy.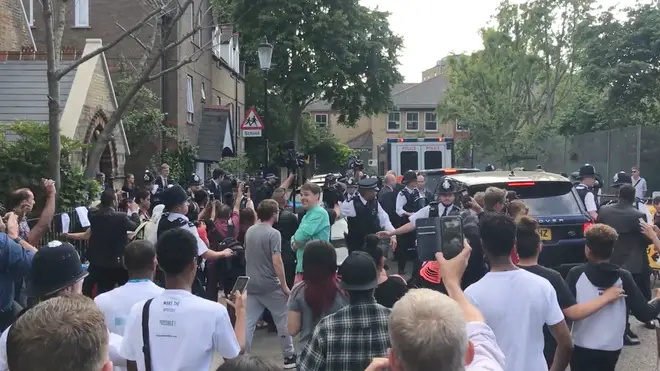 The Tory leader was surrounded by police and bodyguards as she made her way into her waiting car.
As she made her way into the 4x4 a number of people shouted "scum" and "go".
The chaotic scenes came moments after Mrs May announced a £5m fund to support the victims of the disaster.
The money is said to be made available to pay for emergency supplies, food, cloths and other costs.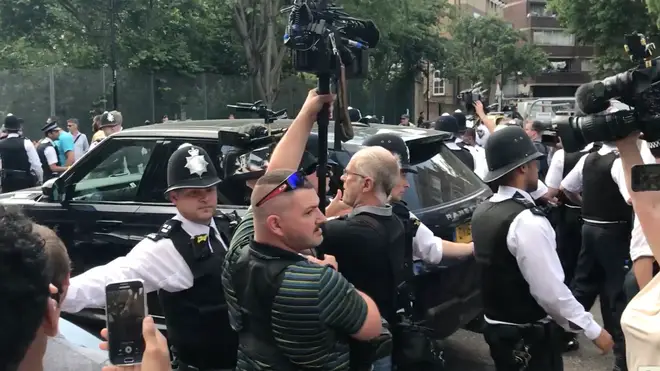 The dramatic scenes came shortly after protesters stormed Kensington and Chelsea town hall.
A number of demonstrators gained access inside the council building as police struggled to contain the protest.
Residents are said to be angry at the authorities' response to the Grenfell Tower blaze, which has killed at least 30 people.
They're also unahppy with the "years and years" of neglect which has been brought to light by recent events.
Read more: Crowds Of Grenfell Fire Protesters Storm Kensington And Chelsea Town Hall