Crowds Of Grenfell Fire Protesters Storm Kensington And Chelsea Town Hall
16 June 2017, 16:44 | Updated: 16 June 2017, 17:59
Crowds of people have stormed Kensington and Chelsea town hall during a protest about the Grenfell Tower fire which killed at least 30 people.
Tempers began to flare as furious demonstrators showed their frustration at the local authority's response to Wednesday morning's blaze.
Some residents are reportedly concerned that the real death toll hasn't been revealed for political reasons.
Protesters also say they're worried about how and where victims will be rehoused.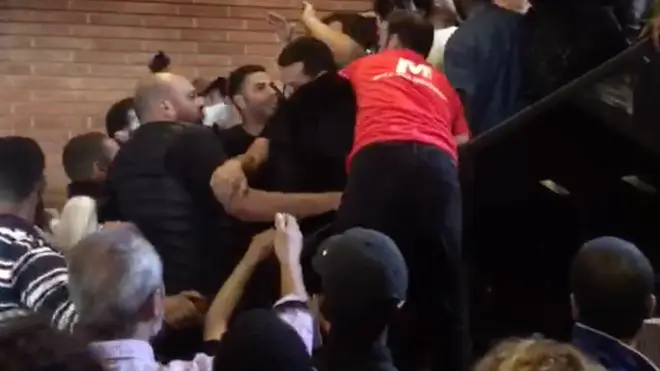 LBC's Richard Suchet was at the scene when about 300 people charged towards the building.
"There are people who tried to break into the officers upstairs," he said.
A number of demonstrators entered the building while holding placards and appeal posters as they shouted "we want an inquest" and "we want justice".
Protesters were called away from the foyer by protest organiser Mustafa Mansour, who urged calm.
Speaking to the growing crowd, Mr Mansour called on senior council leaders to "come out" of the building to respond to a list of demands submitted by the Radical Housing Network.
"The response we got from the council was not satisfactory," he said.
"The council's response will be published online, however I request all of us to stay put until we get a firm response from the council on their commitments.
"We have requested the senior council leaders to come out."
A number of police officers have formed a human guard at the reception of the town hall to stop anymore protesters entering.
Mounted officers have also been spotted close to the scene on stand-by.