The Stats That Shame Britain's Rail Services
25 July 2018, 08:38 | Updated: 25 July 2018, 08:53
Hundreds of thousands of commuters face misery every day just by using trains to get to work. These statistics show just how bad Britain's railways have become.
Rail Day: All day on Wednesday, LBC is looking at the state of Britain's railways.
Overcrowding
Nearly a quarter of all passengers have to stand on trains into London. Additionally, significant numbers were also unable to find a seat on services into Manchester, Birmingham and Leeds.
The most overcrowded scheduled train is the 04:22 TransPennine Express service from Glasgow Central to Manchester Airport. 403 people are squeezed into four carriages containing just 191 seats.
A service from Manchester Airport to Edinburgh was the second most overcrowded after calling at Manchester Oxford Road at 4.19pm. Just 191 seats were provided for the 387 passengers on the train.
Meanwhile, by the time it pulled into its final destination at London Bridge, a 7:16am Southern service from East Grinstead with a standard class capacity of 640 was carrying 1,220 people.
The most overcrowded train lines are: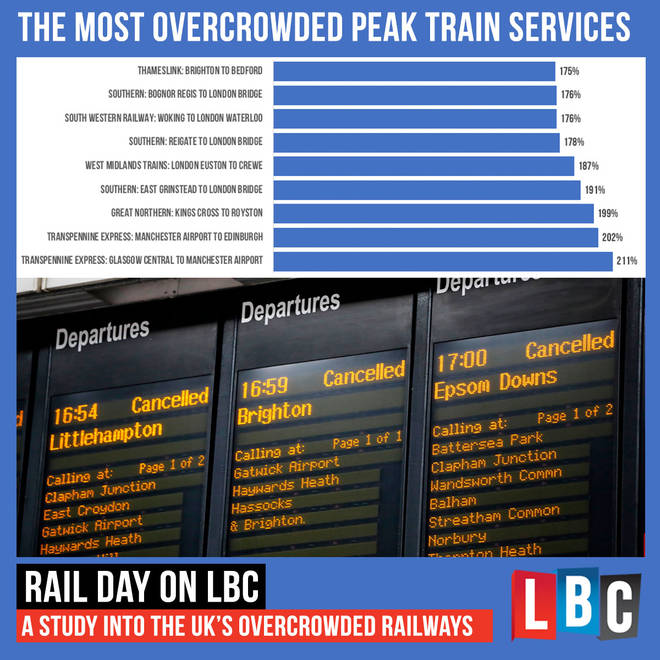 On average, 23% of passengers on trains in and out of London were forced to stand, peaking at 36% for those heading to and from Fenchurch Street station.
Delays
These are the train franchises which have had the most delayed trains. The number is the percentage of trains arriving within five minutes of the scheduled time (or 10 minutes for long-distance services).
Transpennine Express: 71.0%
First Hull Trains: 73.0%
Northern: 77.4%
London North Eastern Railway: 77.5%
Govia Thameslink Railway: 79.1%
Grand Central: 80.4%
Great Western Railway: 81.8%
Crosscountry: 81.8%
South Western Railway: 86.2%
Virgin Trains West Coast: 86.4%
So if you get 10 trains a week on Transpennine Express, you can be sure that three of them will be running late.
Worryingly, the trains struggle to work both when it's hot AND when it's cold!
Cost
Most Expensive Season Ticket Per Mile: Harlow Town to Liverpool Street, £3,620 per year That represents 16% of the average annual income in the area.
Indeed, rail fares have increased at twice the pace of wages since 2010.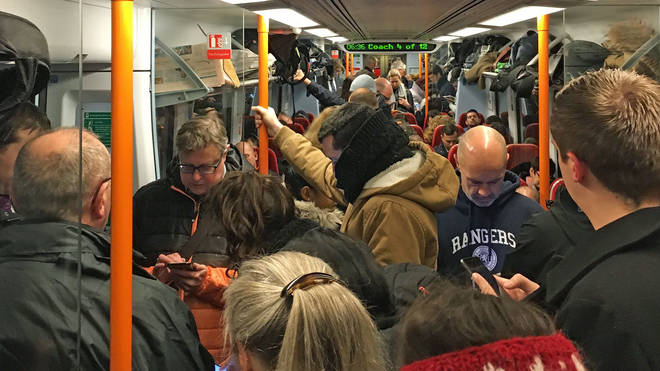 Ballooning Budgets For New Train Lines
London's Crossrail project is running £600 million over budget.
A report leaked to the press suggested the HS2 budget 'will balloon from 56 billion to £80 billion.