Banksy artwork depicting MPs as chimpanzees sold for record sum
3 October 2019, 22:22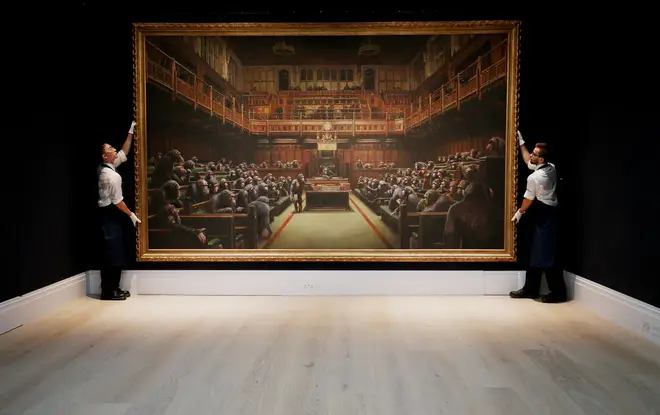 A Banksy artwork that portrays MPs in the House of Commons as chimpanzees has been sold for £9.9 million, in what organisers say is a record for the street artist.
The artwork, Devolved Parliament, went under the hammer at Sotheby's in London on Thursday.
It took only 13 minutes of bidding for it to be sold for £9,879,500. It had a guide price of between £1.5-2 million.
The sale of the four metre wide artwork surpassed by a long way the previous auction record for a Banksy, which is thought to be the 1.8 million US dollars (£1.4 million) paid for Keep It Spotless.
The auction house said: "Regardless of where you sit in the Brexit debate, there's no doubt that this work is more pertinent now than it has ever been."
Alex Branczik, from Sotheby's, said Banksy "confronted the burning issues of the day".
Shortly after Devolved Parliament was sold, Banksy reacted on Instagram.
"Record price for a Banksy painting set at auction tonight," he wrote.
"Shame I didn't still own it."
After Devolved Parliament went on display in March, Banksy wrote on Instagram: "Devolved Parliament. I made this 10 years ago.
"Bristol museum have just put it back on display to mark Brexit day [31st March]."
His post ended with the quote: "Laugh now, but one day no-one will be in charge."
Chimpanzees first appeared in his work in 2002, with his piece Laugh Now.
The painting shows a row of apes wearing aprons carrying the inscription "Laugh now, but one day we'll be in charge".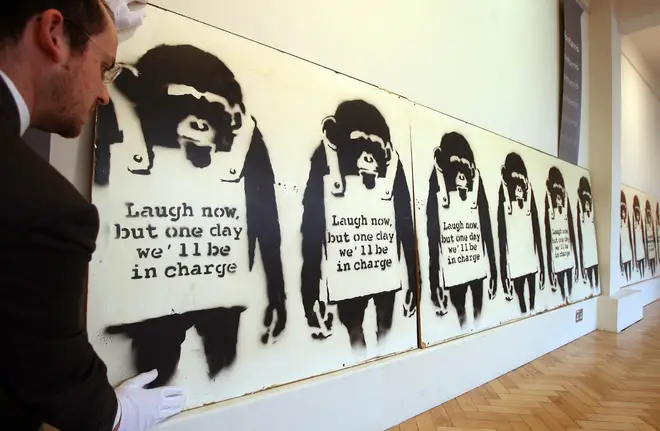 The artist has since used the monkey as a common character symbol in his graffiti art.
In 2009, Banksy said of Devolved Parliament: "You paint 100 chimpanzees and they still call you a guerrilla artist."
Who is Banksy?
The identity of street artist Banksy remains unknown.
He is believed to have begun his career as a graffiti artist in the early 1990s in the Bristol underground scene.
In the late '90s, he began predominantly began using stencils, making his work more widely recognisable around Bristol and in London, as his signature style developed.
His satirical street art and subversive epigrams are famous for combining dark humour with graffiti.