Shocking CCTV shows burglary gang climbing into homes using bed sheets
1 October 2019, 19:21
Five Romanian nationals who terrorised homes across the West Midlands and surrounding counties were jailed at Birmingham Crown Court on Tuesday.
The gang were linked to roughly 400 break-ins whilst targeting affluent areas in the West Midlands, West Mercia, Staffordshire and Gloucestershire for cash and jewellery.
Among their loot were designer watches worth up to £30,000 each and Asian gold items totalling several million pounds.
Catalin Zaharia and Constantin Stoian, both aged 30, Marian Molocia, 27, Daniel Stoean, 35, and 28-year-old Florina Spiru, Zaharia's wife, all flew to the UK for the winter months to target houses under the cover of darkness.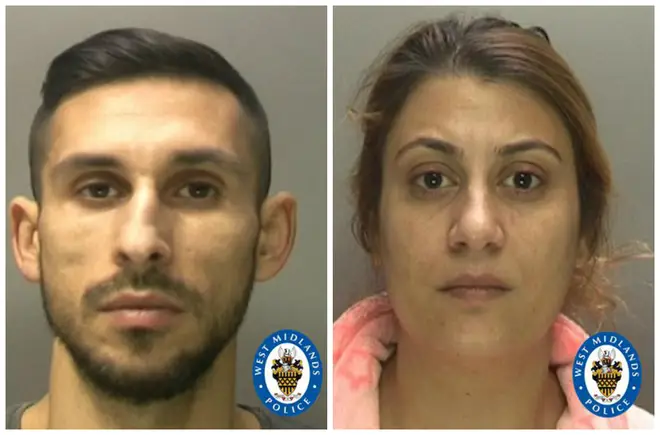 Across four years the gang would plunder homes from November to January and then return to Romania in the New Year with the loot.
CCTV footage released by West Midlands Police showed the ringleader Zaharia using a bed sheet to climb up through a first floor window at a home in Castle Bromwich, Birmingham on 15 January 2017.
Additional pictures show the group rummaging through a family home in Shirley on 8 January last year before leaving the property with stolen goods.
Despite operating from 2014 to 2018, a breakthrough was made last September by police after they caught Zaharia throwing a bag of jewellery from a stolen, uninsured car on the M6.
Police arrested the suspect and took his DNA which matched a profile found at a crime scene in Solihull.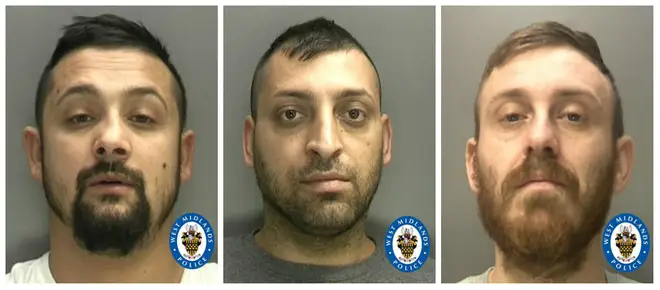 Officers scanned Zaharia's travel history and found he had entered and left the UK more than 30 times across three years with other members from the gang.
A warrant was executed last December at Zaharia's home in Oldbury, detaining all five defendants and recovering cash, stolen goods and a £20,000 handbag.
Burglary paraphernalia was also found, including several pairs of rubber grip gloves and tools.
All five initially denied involvement but forensic inquiries linked Molocia, Stoean and Stoian to 13 offences by blood or fingerprints left at a scene.
Florina Spiru was not actively involved in the break-ins but helped to launder cash and property.

Images on her mobile phone showed her flaunting wads of cash and revealed her partner in a BMW 3 Sport.
Compelling evidence led to the group entering guilty pleas with ringleader Zaharia being sentenced to eight years and his partner Spiru receiving four-and-a-half years.
Molocia was handed a six-year-four-month sentence, Stoian was also imprisoned for four-and-a-half years and Stoean given a four-year term behind bars.
West Midlands Police Sergeant Sandy Thompson said the gang had caused untold heartache, worry and inconvenience for residents across the region.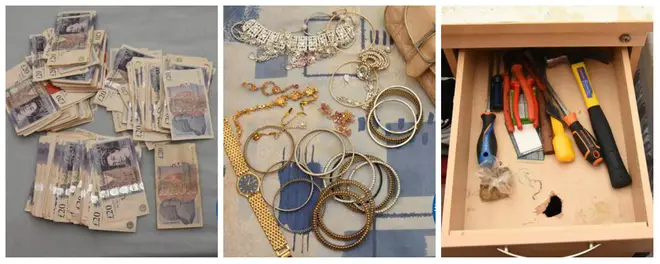 As well as the 76 burglaries outlined in court, officers believe the wider gang may have been involved in hundreds of offences.
Sgt Thompson added: "They were ruthlessly organised: they would scope out homes in affluent areas, wait till nightfall and strike at addresses with the lights off that appeared unoccupied.
"They always broke in via first floor windows to avoid alarm sensors on the ground floor, to get straight into bedrooms where valuables were likely to be kept and even took jewellery testing kits with them to test the purity of gold items at the scene.
"The group made regular money transfers to family members back home via Oldbury post office and other outlets.
"We also found lots of photos showing friends and family in Romania posing in expensive jewellery taken from homes in our communities."