New LBC Schedule Revealed: Eddie Mair To Present Weekday Drivetime Show
28 August 2018, 06:00 | Updated: 31 August 2018, 08:07
Eddie Mair is to present a new weekday Drivetime show on LBC as the UK's biggest commercial news talk radio station reveals its autumn schedule.
Mair will present Monday to Friday between 4pm and 6pm with his first LBC show starting on Monday 3rd September.
The broadcaster becomes the newest member of LBC's award-winning line up, which includes Nick Ferrari, James O'Brien, Shelagh Fogarty, Nigel Farage, Iain Dale, Maajid Nawaz and Matt Frei.
He is joining LBC from the BBC where he was host of Radio 4's evening news programme PM for 20 years.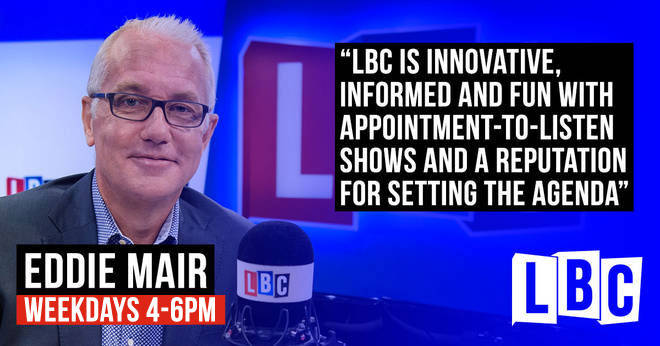 Alongside Mair's new Drivetime show, there are a number of other changes to the LBC Autumn line-up.
The Nigel Farage Show moves to the earlier time slot of 6pm to 7pm, Monday to Thursday, while continuing his usual Sunday morning show.
Iain Dale will launch a new weekday evening show, taking the helm every Monday to Thursday from 7pm to 10pm.
LBC is also introducing a new late-night show, hosted by Tom Swarbrick. Tom will front the legendary programme Sunday to Thursday from 10pm to 1am.
There are also changes to the LBC weekend schedule.
Andrew Castle will present LBC's weekend breakfast shows from 7am and 10am.
Ian Payne will host weekend drive between 3pm and 6pm every Saturday and Sunday.
Clive Bull will present Saturday night between 6pm and 8pm as well as Sunday 6pm to 9pm. Beverley Turner moves to a new time slot of 8pm to 10pm on Saturday.
James Rea, LBC's managing editor, said: "LBC is home to the nation's most respected and formidable broadcasters – and it's terrific to welcome Eddie to our powerhouse presenting team.
"As we launch our new autumn schedule, LBC will continue to lead the way in opinionated and compelling speech radio, stimulating debate on the issues that people are really talking about."
LBC is Britain's biggest commercial news talk radio station, tackling the major stories of the day and the issues that matter with 2.1 million listeners across the UK.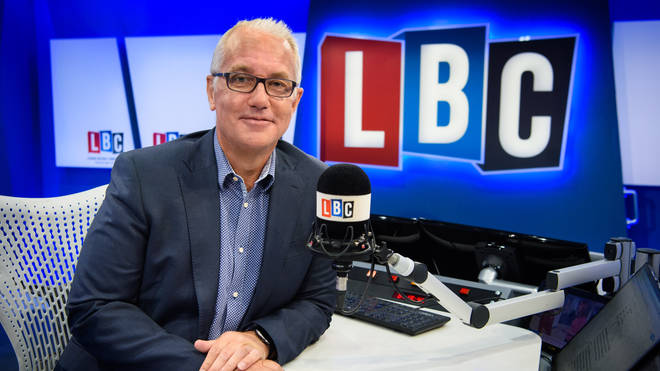 LBC's New Autumn Line-Up: Starts 1st September
Monday to Thursday:
1:00am - Darren Adam
4:00am - Steve Allen
7:00am - Nick Ferrari at Breakfast
10:00am - James O'Brien
1:00pm - Shelagh Fogarty
4:00pm - Eddie Mair
6:00pm - The Nigel Farage Show
7:00pm - Iain Dale
10:00pm - Tom Swarbrick
Friday:
1:00am - Darren Adam
4:00am - Steve Allen
7:00am - Nick Ferrari at Breakfast
10:00am - James O'Brien
1:00pm - Shelagh Fogarty
4:00pm - Eddie Mair
6:00pm – Andrew Pierce
10:00pm – Nick Abbot
Saturday:
1:00am – Matt Stadlen
5:00am – The Best of Steve Allen and In Conversation With…
7:00am - Andrew Castle
10:00am - Matt Frei
12:00pm - Maajid Nawaz
3:00pm - Ian Payne
6:00pm - Clive Bull
8:00pm - Beverley Turner
10:00pm – Nick Abbot
Sunday:
1:00am – Matt Stadlen
5:00am – Steve Allen
7:00am - Andrew Castle
10:00am – The Nigel Farage Show
12:00pm - Maajid Nawaz
3:00pm - Ian Payne
6:00pm - Clive Bull
9:00pm – In Conversation With…
10:00pm – Tom Swarbrick