Liverpool 'days away' from more severe Covid-19 lockdown
30 September 2020, 07:50 | Updated: 30 September 2020, 15:34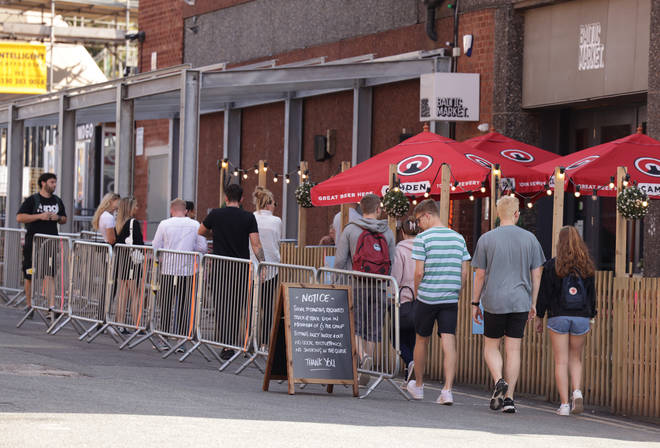 The Mayor of Liverpool has warned the city is "only a matter of days" from having a more severe lockdown imposed.
Coronavirus cases in the city region have soared to 221.8 per 100,000 people - up from 15.7 last month.
Joe Anderson said: "For me, it is only a matter of time because the virus isn't able to be controlled in the city with the restrictions we have now.
Read more: What time is Boris Johnson's press conference later?
Read more: Coventry University: 'Up to 200' students flout lockdown in rave at halls
"We need a circuit breaker or stricter lockdown to try to stop the virus spreading.
"If we can have the severest measures of lockdown now, we may arrest the increase and start to bring it down by the end of October, so that in the lead up to Christmas we can get some normality."
Speaking at a press conference on Wednesday, Liverpool City Region Metro Mayor Steve Rotheram said he is meeting with council leaders later about potential new restrictions.
Asked about the potential for a two week "circuit breaker" lockdown, he said that wasn't one of the options presented to him when he met with Chief Medical Officer Chris Whitty on Monday.
As Liverpool City Region leaders, we understand why further restrictions may be needed to halt the spread of Covid-19 in our communities.

We're asking for Government to work with us, provide proper financial support and increase testing capcity if restrictions are introduced. pic.twitter.com/oMHSAdSRoy

— Steve Rotheram (@MetroMayorSteve) September 30, 2020
He said council leaders "understand and support more measures" but businesses need help to survive.
The Mayor said: "Our visitor economy is worth £5bn a year to our region. 50,000 jobs depend on it.
"The sector can't take another lockdown without financial support from Government."
Mr Rotheram said they "hadn't come up with agreed proposals" but said there could be an announcement soon.
In the same press conference, Greater Manchester Mayor Andy Burnham said he "wouldn't want to see any particular strengthening of the rules we've got at the moment" but called for greater consistency.
He also said: "We are looking at a winter that is going to do serious harm to the health of our communities and serious harm to the economy across Greater Manchester and the Liverpool city-region if things stay like this."
Addressing the Government, Mr Burnham said: "We've hit quite a dangerous moment in my view in terms of where we're up to in this crisis."
"We want to work with you and we're ready to do our bit."
In a tweet, the Mayor wrote: "Ahead of today's debate in Parliament, I call on MPs on all sides to agree an important principle: That any local restrictions MUST be accompanied by proper financial support for the individuals, businesses and councils affected."
As of 9am on Tuesday, there had been a further 7,143 lab-confirmed cases of coronavirus in the UK - the highest daily figure recorded since the outbreak began, although far more tests are being carried out than in the spring.
A further 71 people had died within 28 days of testing positive for Covid-19 as of Tuesday, bringing the UK total to 42,072 - although separate figures published by the UK's statistics agencies show Covid-19 was mentioned on the death certificate in nearly 57,900 cases.
The Prime Minister's official spokesman said: "The purpose of that is to provide an update on the latest statistics. It is not because there is some specific set of new announcements to make."
Meanwhile, the new regulations in Northumberland, Newcastle, Gateshead, North and South Tyneside, Sunderland and County Durham came into force at midnight and will see fines imposed if people mix with others from outside their household or bubble in indoor settings, including pubs and restaurants.
There are calls for "effective" public health messaging after Mr Johnson had to apologise over confusion about the lockdown measures in north-east England.
📣 Andy is calling for a reset moment in our national approach to dealing with the pandemic:

▪️ No change to local restrictions without meaningful consultation

▪️ No restrictions without proper financial support

▪️ No role for people at local level without proper resources

— Mayor Andy Burnham (@MayorofGM) September 30, 2020
Mr Johnson stumbled over his explanation of the ban on households mixing, saying that he "misspoke".
With the rules not published until late on Tuesday night, ministers were quizzed about whether they would apply in settings such as beer gardens.
In response to questions, Mr Johnson said: "In the North East and other areas where extra-tight measures have been brought in, you should follow the guidance of local authorities but it is six in a home, six in hospitality but, as I understand it, not six outside."
But he later tweeted: "Apologies, I misspoke today. In the North East, new rules mean you cannot meet people from different households in social settings indoors, including in pubs, restaurants and your home. You should also avoid socialising with other households outside."
The regulations state that people who operate premises should ensure groups gathering outdoors do not exceed six unless an exception applies, suggesting groups can still socialise outside provided they adhere to the rule of six.
Elsewhere, four North Wales local authority areas - Denbighshire, Flintshire, Conwy and Wrexham - will go into lockdown from 6pm on Thursday, and Wales's First Minister Mark Drakeford has asked Mr Johnson to urgently consider imposing travel restrictions in areas of England with high levels of coronavirus infections.
With MPs set to vote on the renewal of the Coronavirus Act's powers in the Commons on Wednesday, more than 50 Tories have backed an amendment calling for Parliament to be given a greater say over the use of measures to curb people's freedoms.
Wednesday's vote will see MPs decide whether to renew the provisions of the emergency legislation in the Coronavirus Act.
Tory MPs expect ministers to offer concessions to Parliament in order to avoid a damaging defeat if Speaker Sir Lindsay Hoyle calls the rebel amendment for a vote.
Sir Graham Brady, chairman of the influential Tory 1922 Committee and the rebels' ringleader, said there was "likely to be an accommodation reached" because "they knew we have the numbers".