Mass hummus recall issued over salmonella fears
4 November 2019, 22:41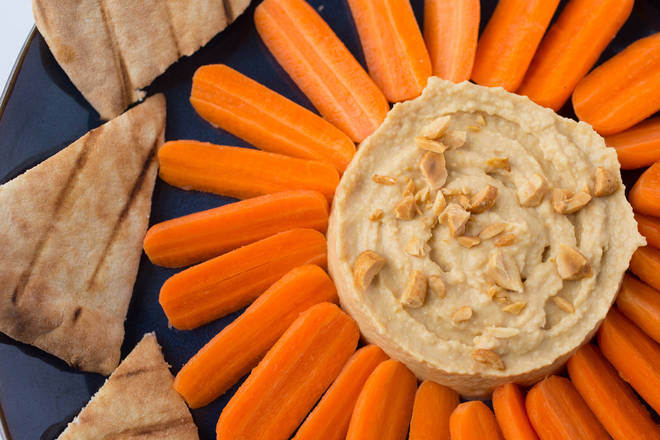 A UK hummus supplier has issued a product recall over fears their chickpea-based-dip could be contaminated with salmonella.
Zorba Delicacies, who make a large proportion of hummus delivered to major UK supermarkets, issued a recall last week for their products with use-by dates up to 7 November.
But over the weekend this was extended to any products dated up to 17 November.
The Food Standards Agency initially said up to 17 separate items could be affected, although now it is now feared 83 products could contain the harmful bacterial disease.
Symptoms can include a high temperature, vomiting, diarrhoea and abdominal cramps.
Although healthy adults can usually recover within a few hours, salmonella can be dangerous for the elderly and young children.
The exact cause of the contamination is not known, although Zorba said the source was "an ingredient supplied by a third party."
Hummus fans are being urged to refrain from eating the items and instead return at the point of purchase for a full refund.
Zorba Delicacies, based in Wales, supplies products to supermarkets including Sainsbury's, Asda, Morrisons, Lidl, Aldi, Spar, Safeway, Iceland and John Lewis.
Nando's hummus sold in supermarkets has also been recalled, although the product sold in their restaurants has not been affected by the recall.
For the full list of products which have been recalled, please click here.
In a statement, Zorba said: "The first issue was identified in a limited volume of hummus during our testing procedure, and root cause analysis quickly pointed to the likely source as being an ingredient supplied by a third party.
"Further extensive testing of batches of the suspected ingredient resulted in a presumptive indication of the presence of salmonella in a sample.
"Further testing and results to confirm this initial finding are awaited, although the company took the precautionary step of recalling additional hummus items based on this presumptive result.
"In both instances, we immediately alerted the FSA, with whom we continue to work on this matter, and instructed customers to remove products from all outlets."