Rishi Sunak refuses to back Suella Braverman after she warned there was a 'hurricane' of migrants coming to Britain
6 October 2023, 15:04 | Updated: 6 October 2023, 15:15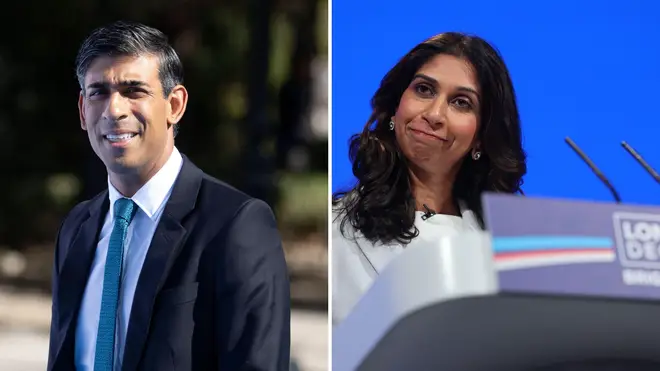 Rishi Sunak said multiculturalism was something "we are proud of" as he refused to back the home secretary after she warned that there was a "hurricane" of mass migration coming to Britain
Ms Braverman told the Conservative conference that: "The wind of change that carried my own parents across the globe in the 20th century was a mere gust compared to the hurricane that is coming."
Asked if he was "embarrassed and ashamed" by her choice of language, the Prime Minister told This Morning: "If you just take a step back, what do I think we all agree on? We all agree that Britain is an incredibly welcoming place, like we're all living proof of the fact that immigrants can come here, can do well, and that is something that we, I think, do better than any country in the world."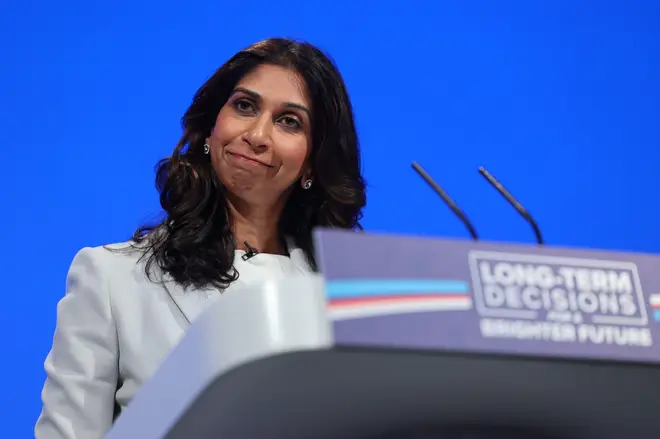 Read More: Rishi Sunak sets himself up as Thatcher's heir as he gambles on three new policies
Read More: 'Hurricane of migrants' coming to the UK, warns Suella Braverman as she attacks celebrity critics
Asked if therefore "we have failed in any way", he said: "No, no, I think it is something we should be so proud of as Brits."
He stressed, however, that migrants need to "integrate, they should sign up to British values, so we have those shared understanding amongst us".
Sunak also revealed that the first time he went to a party with his wife he dressed up as Harry Potter and she went as a girl guide.
The prime minister was asked what his favourite Halloween costume would be. He said: "The first time Akshata [and I] actually went to a party together, it was a Halloween party when we were in the States. She went as girl guide and I went as Harry Potter."
He also suggested there is a safe level of alcohol consumption despite warnings from the NHS and the World Health Organisation.
The prime minister was asked why he had chosen to eventually ban smoking by increasing the age at which cigarettes were able to be purchased but not alcohol.
"Smoking is different to everything else we have," he said, to which presenter Dermot O'Leary replied: "Do you think its different to alcohol?"Sunak said: "Yeah it is, because there's no safe level of smoking, and it's highly addictive, it's a single leading preventable cause of death, disease, illness in our society."