Watch: Strong winds cause forest floor to 'move like the sea' in dramatic footage as Storm Babet batters Britain
21 October 2023, 14:56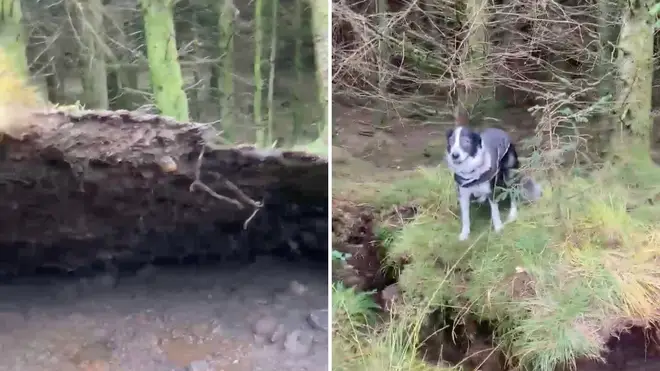 Dramatic footage shows the moment trees and turf are blown into the air by Storm Babet's strong gusts as a dog walker described the ground as "moving like the sea".
David Nugent-Malone was walking his dog when he captured footage of the "woods…moving like the sea," in Mugdock, Stirlingshire yesterday.
The clips shared on X, formerly Twitter, appear to show the forest floor rising and falling, as strong winds pull tree roots up from the base.
"The earth was breathing deeply this morning," tweeted Nugent-Malone.
One X user tweeted, "This is just incredible to catch on camera!"
Another user described the scenes as "scary and incredibly unnerving!!"
Read more: Storm Babet floods cause travel chaos as overcrowded King's Cross forced to shut while police limit passengers
Three people have died, and a fourth man remains missing as Storm Babet continues to wreak havoc across the UK.
More than a month's worth of rain fell in less than 24-hours across areas of North East Scotland.
Danger-to-life flood warnings are in place in parts of Derbyshire and a further red warning indicating a risk to life has been issued in areas of Angus and Aberdeenshire.
Read more: Two women killed as lorry overturns on M4 amid high winds and rain from Storm Babet
Scotland's Home Affairs Secretary Angela Constance has warned the situation remains "very precarious" and residents should stay home unless they are told to evacuate.
Constance told the BBC: "I want to reassure people that all partners are working very hard to keep things safe."
Scottish Fire and Rescue Services urged residents that "under no circumstances should anyone go into or approach flood or fast-moving water."
Storm Babet continues to affect rail travel across the UK with London North Eastern Railway (LNER) advising of severe disruption due to flooding as "crews and trains are displaced across the country."