Storm Babet claims fourth victim as travel chaos forces overcrowded King's Cross to shut while police limit passengers
21 October 2023, 14:01 | Updated: 21 October 2023, 15:02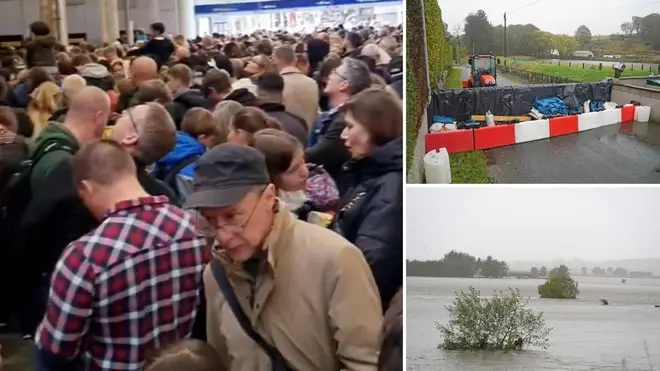 A fourth person has died in Storm Babet as flooding closed rail lines and King's Cross shut due to overcrowding as trains were cancelled.
The storm has wreaked travel chaos and a 19-year-old man died in a car crash as his vehicle smashed into a wall near Halifax on Friday night.
It is understood the conditions played a role in the incident.
The white Seat Ibiza crashed in Shelf after 11pm and the driver was pronounced dead at the scene. An 18-year-old man was taken to hospital in a critical condition and his injuries are life-threatening.
Four others in the car were taken to hospital for treatment.
Police closed King's Cross after too many people were crammed inside as their services were delayed or scrapped.
It has reopened for some passengers.
Photos from inside the station showed people hemmed in, standing shoulder to shoulder while overhead screens displayed the bad news.
Network Rail said: "While many of the country's rail services are running well today, we're sorry to say that there is still severe disruption in areas worst-hit by Storm Babet, including Scotland, the North East and East Midlands.
"In particular, King's Cross station has crowd-control measures in place this afternoon while LNER services to the North East are severely disrupted. We are asking people to check before they travel today, to avoid wasted journeys."
National Rail said: "Due to overcrowding at London Kings Cross the station was shut to outgoing passengers. The police have crowd measures in place and the station is now open for Great Northern and Thameslink passengers.
"Services will be arriving and departing from platforms 9 and 10."
@LNER what's the plan to get people onto the trains at King's Cross? Nobody's going through the barrier and we can't hear the staff when they shout. No tannoy announcements either.

Worse than last night. pic.twitter.com/zJoCAjbR22

— Susan McLellan (@Speedqueenie) October 21, 2023
Storm Babet has brought travel misery and deadly conditions to parts of the UK. Warnings of a significant risk to life have been issued for parts of Derbyshire after the River Derwent rose to record levels.
A rare red danger to life warning was put in place for parts of eastern Scotland, with four months' worth of rain set to fall in a single day, while amber and yellow warnings are in place across the country.
A danger to life flood warning was put in place for Llandrinio in Powys, Wales, where the rivers Severn and Vyrnwy join.
Three people have been killed in the storm, and a man is still missing in Aberdeenshire.
Several train operators advised against travelling at all on Saturday as dreadful weather rolled in.
LNER, Avanti West Coast and Northern Rail all warned against it. There are no LNER services north of Edinburgh and road closures mean a rail replacement service can't run, while other trains could be subject to cancellations at short notice.
There are no trains between Sheffield and Nottingham or Lincoln after flooding.
Northern Rail said lines between Cheadle Hulme and Wilmslow are blocked after overhead wires are damaged.
Services cannot travel between Leeds and Doncaster, Harrogate and Bradford, while the line between Newcastle and Morpeth is closed due to damage.
Read more: Severe flood and 'risk to life' warning for Derbyshire as Scotland issued rare red weather alert amid Storm Babet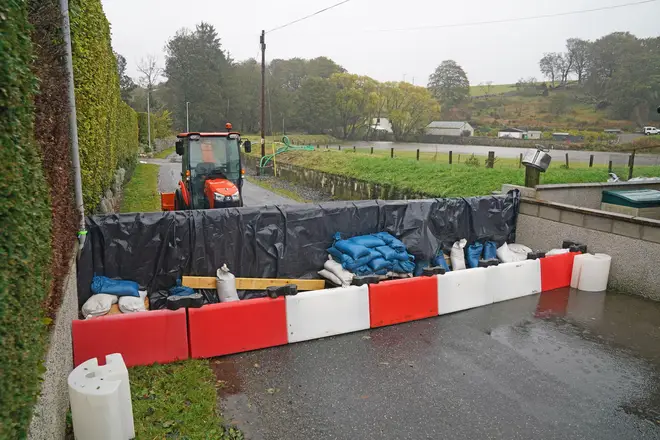 Avanti told customers not to travel between Crewe and North Wales and people should only travel between Preston and Glasgow or Edinburgh if necessary.
Leeds Bradford reopened after heavy winds forced a Tui flight with 195 passengers to skid off a runway.
Three severe flood warnings were put in place for areas along the river at Derby City Water Treatment Works, Little Chester, Eastgate and Cattle Market, and Racecourse Park at Chaddesden.
This includes the eastern portion of Derby city centre.
"Stay away from flood water and do not take unnecessary risks. Please follow the advice of the emergency services and first responders on the ground and on Derby City Council's website," the government's flood website said.
It added that "further light rainfall is forecast over the next 36 hours, however river levels continue to rise due to rainfall traveling from the upper Derwent" and levels will remain high until Monday.
Friday saw widespread disruption amid very strong winds, heavy rain and flooding, and horrendous conditions have remained.
Hundreds of homes flooded after the River South Esk burst its banks in Brechin, and there are now fears the River Don in Aberdeenshire could follow suit.
The Scottish Environmental Protection Agency feared it could breach at the towns of Inverurie, Kemnay and Kintore.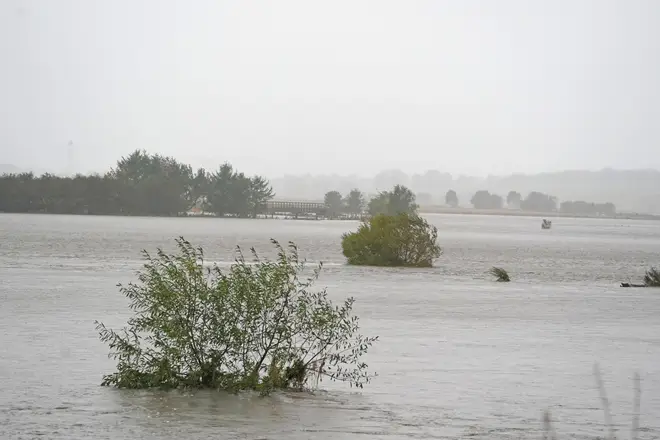 Read more: Warning of wet and windy weekend as Storm Babet weather warning extended, with 'worst-ever conditions' for some
Assistant Chief Constable of Police Scotland Stuart Houston said: "With the red warning extended until midnight Saturday, this remains a dangerous situation which poses a threat to life.
"Communities in Tayside are dealing with some of the most difficult conditions they have faced, with evacuations continuing of those affected by flooding."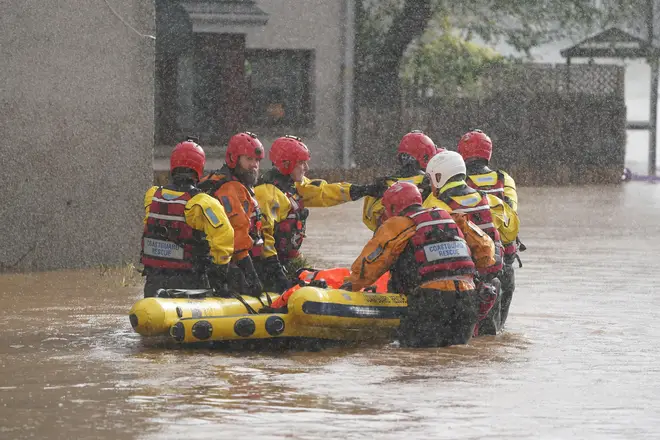 Across England, there were more than 350 flood warnings and 200 alerts, as the Met Office forecast heavy rain and strong winds in parts of northern England and Scotland.
"Prolonged and very heavy rain is expected to develop across parts of Angus and Aberdeenshire area throughout Saturday, in areas already affected by severe flooding," the forecaster said.
Read more: Trent Alexander-Arnold 'cheats death' in Storm Babet as 40ft pylon crashes down just in front of Liverpool star's car
"Accumulations of 70-100mm are expected over a period of 18-24 hours, the highest accumulations over the hills.
"Less rainfall is expected around coastal areas, but impacts from the higher rainfall further west will extend towards the coast."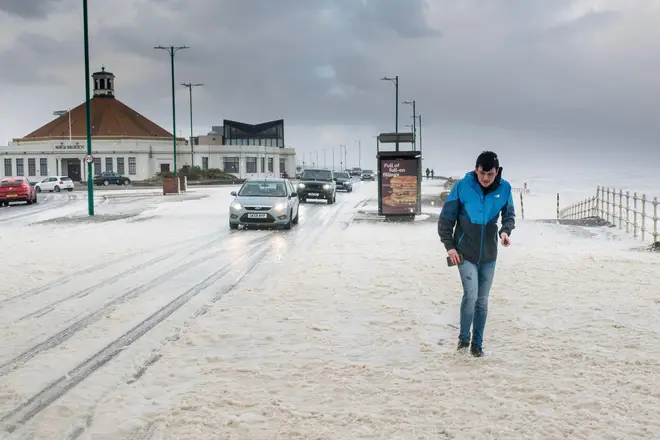 A man in his 60s died after being caught in fast-flowing floods in Cleobury Mortimer, Shropshire on Friday.
Police Scotland said a falling tree hit a van near Forfar in Angus on Thursday evening, killing the 56-year-old driver.
A 57-year-old woman also died on Thursday after being swept into a river in the region.
Several key roads were closed on Friday, rail lines were blocked and flights were grounded by the severe weather.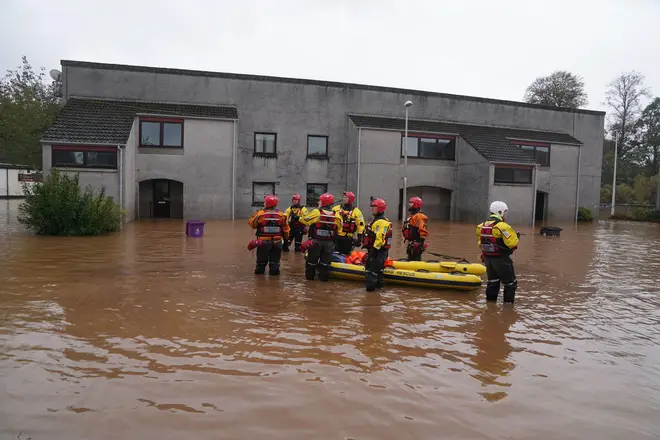 No LNER trains were running north of Edinburgh, and the operator said it didn't expect to start running trains north of the Scottish capital until Monday at the earliest.
It is running "an extremely limited service" and trains could be "subject to short-notice cancellation".
"Customers are being advised to defer travel. Tickets will be valid for travel between Monday 23 October and Friday 27 October 2023 or fee free refunds will be possible from the original point of purchase," LNER said in a statement.
A statement continued: "Customers are being advised to defer travel. Tickets will be valid for travel between Monday 23 October and Friday 27 October 2023 or fee free refunds will be possible from the original point of purchase."
Babet brought flooding across Scotland as hundreds of homes in Brechin, in Angus, were told to leave and a limited amount of sandbags were laid outside homes to limit the damage from water.
Roads were submerged by floods while natural features disappeared beneath the water in rural areas.
More than 75 people were taken to rescue centres in Angus, east Scotland, after being forced to leave their flooded homes.
Angus Council said people in more than 60 homes in Brechin, who refused previous evacuation attempts, required rescue.
The Scottish Fire and Rescue Service (SFRS) confirmed they had attended about 70 weather related incidents since Thursday morning and received about 750 emergency 999 calls, which a spokesperson confirmed was an "unusually high" number of calls.