Warning of wet and windy weekend as Storm Babet weather warning extended, with 'worst-ever conditions' for some
20 October 2023, 23:12 | Updated: 20 October 2023, 23:41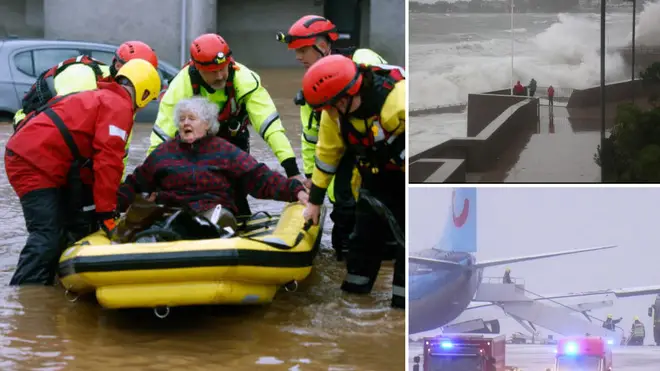 Many Brits are facing a wet and windy weekend ahead as Storm Babet continues to rage, with some communities "dealing with the most difficult conditions they have ever faced."
Friday saw widespread disruption amid very strong winds, heavy rain and flooding - and the extreme weather is set to continue on Saturday.
The Met Office extended its red weather warning for parts of Scotland to Saturday at midnight, with four months' worth of rain set to fall in a single day.
People in Scotland and northern England will wake up to heavy rain and strong winds on Saturday, the Met Office said. Wales will also have inclement weather, although south-east England may be drier, with scattered showers and a chance of some sunny spells.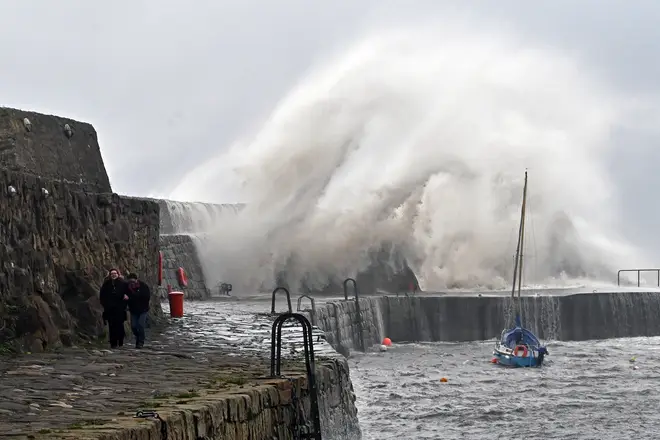 "Prolonged and very heavy rain is expected to develop across parts of Angus and Aberdeenshire area throughout Saturday, in areas already affected by severe flooding," the forecaster said.
"Accumulations of 70-100mm are expected over a period of 18-24 hours, the highest accumulations over the hills.
"Less rainfall is expected around coastal areas, but impacts from the higher rainfall further west will extend towards the coast."
Scotland has borne the brunt of Storm Babet in the UK so far, with two deaths and severe disruption to travel and daily life.
Read more: Moment plane flying into Aberdeen airport has to pull out of landing at last minute because of Storm Babet
Read more: Body of woman found after being swept into river amid Storm Babet red weather warning
Police said the storm may have brought the worst weather ever seen in one region of eastern Scotland.
Assistant Chief Constable of Police Scotland Stuart Houston said: "With the red warning extended until midnight Saturday, this remains a dangerous situation which poses a threat to life.
"Communities in Tayside are dealing with some of the most difficult conditions they have faced, with evacuations continuing of those affected by flooding."
More than 75 people were taken ton rescue centres in Angus, east Scotland, after being forced to leave their flooded homes.
Angus Council said people in more than 60 homes in Brechin, who refused previous evacuation attempts, required rescue.
The Scottish Fire and Rescue Service (SFRS) confirmed they had attended about 70 weather related incidents since Thursday morning and received about 750 emergency 999 calls, which a spokesperson confirmed was an "unusually high" number of calls.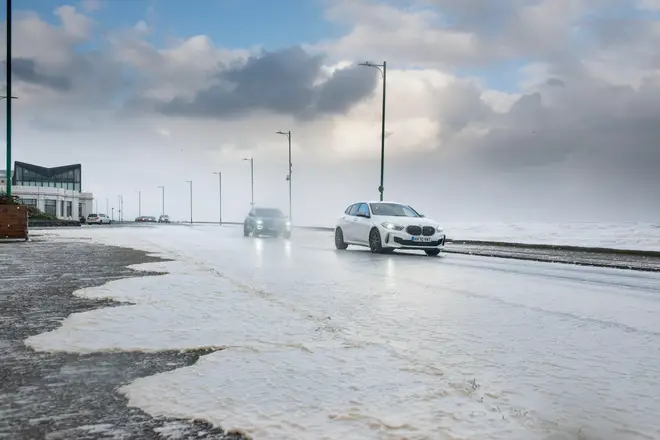 Large parts of the UK have already been hit by transport disruption due to the heavy rain and strong winds.
Several major roads were closed on Friday, rail lines were blocked and flights were grounded by the severe weather.
Sections of several A-roads in Scotland were closed on Friday morning, with some reopening later in the day.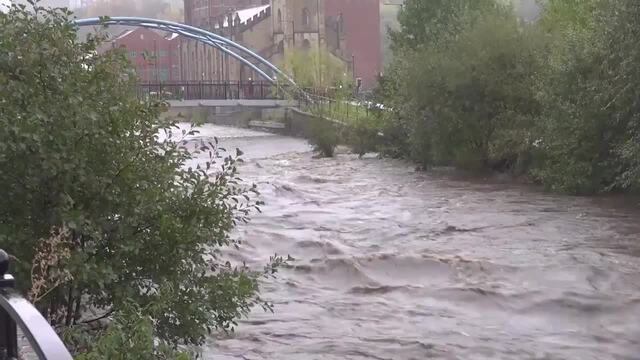 Vehicles stranded amid Storm Babet chaos
Traffic Scotland said those affected include the A9 Jubilee Bridge near Dunkeld, Perthshire, the A85 at Huntingtower near Perth and the A90 from Forfar, Angus to Stonehaven, Aberdeenshire.
Flooding also forced the closure of parts of other A-roads in England, such as the A46 in Leicestershire, the A52 in Derbyshire and the A47 in Norfolk.
Drivers were advised to take care when crossing several bridges, including the A898 Erskine Bridge, West Dunbartonshire; the M90 Queensferry Crossing between Edinburgh and Fife; and the A87 Skye Bridge.
No LNER trains were running north of Edinburgh, and the operator said it didn't expect to start running trains north of the Scottish capital until Monday at the earliest.
The extreme conditions meant all railway lines running through Swindon were blocked, as well as several routes across northern England, the Midlands and North Wales.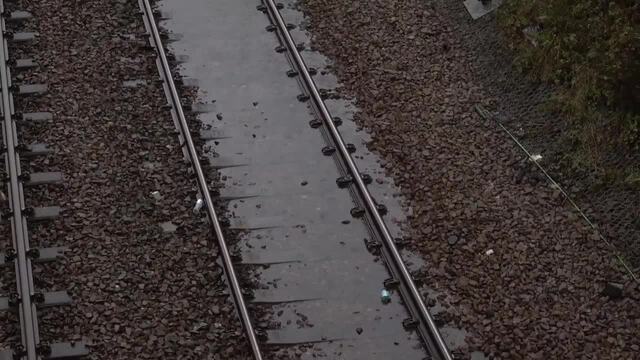 Train route suspended in South Yorkshire after line floods
Meanwhile a passenger plane skidded off a runway at Leeds Bradford Airport, causing passengers to scream. No one was hurt.
Garry Stockdill, whose brother Keith was on the TUI plane, said everyone was ok just "very shaken up".
"They were landing at Leeds-Bradford Airport and they overshot the runway. The plane is now on the grass," he told the Telegraph and Argus.
"They are all OK. Just very shaken up. People were screaming. Fire service are trying to find a way to get them off the plane."
Elsewhere, Suffolk declared a major incident due to the flooding, and some children have had to stay in school overnight.
Schools in Debenham, Mendlesham, Stradbrooke, Stowupland, Framlingham and Wetheringsett have been cut off by flooding according to the council. Some teachers and children have had to stay in school overnight.
In an update on its website, Suffolk County Council urged residents not to travel unless "absolutely necessary".
We have rescued four people trapped on the roof of a vehicle in Trowell.

✋ Please do not drive through flood water. You put your life at risk and the firefighters who will have to rescue you.

⚠️ We advise you do not travel unless necessary. pic.twitter.com/pe6Fk5hzQq

— Nottinghamshire Fire and Rescue Service (@nottsfire) October 20, 2023
Jon Lacey, chief fire officer for the county, said: "The continuous heavy rainfall across Suffolk is causing severe flooding in several locations but is also making driving conditions more dangerous for everyone.
"We are therefore asking people to travel only where it is absolutely essential - for example collecting a child from school, accessing medical treatment or returning home from work.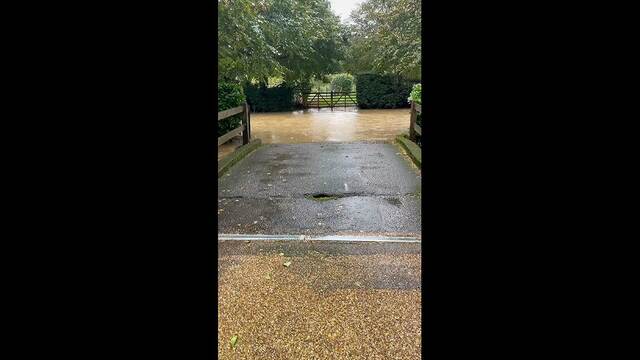 "Reducing non-essential travel means more people stay safe and pressure on the emergency services is reduced.
"Although the Suffolk Resilience Forum will continue to do all it can to help protect our county, everyone needs to take precautions to ensure they do not put themselves in danger.
"We are responding whilst monitoring the situation closely and while the rain is forecast to ease over the weekend, we must all take action to ensure lives are protected."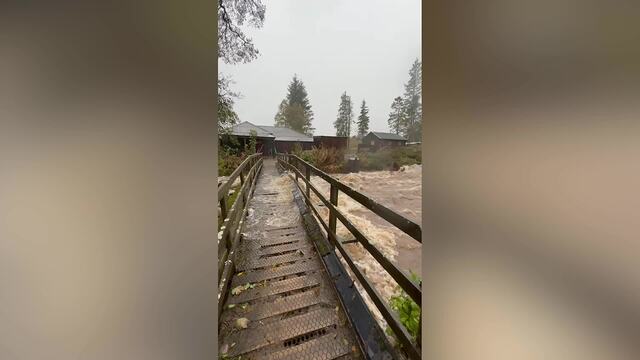 Bridge in Scotland swamped amid flooding from Storm Babet