The Moment Light Aircraft Crash Lands In Sea Off Welsh Coast
4 September 2018, 15:58 | Updated: 4 September 2018, 16:57
A small plane has crash landed in the sea off the coast of west Wales.
Emergency services arrived within minutes to Whitesands to rescue the pilot, who was flying the light aircraft alone.
The Piper PA-28-180 Challenger aircraft landed in the water near St Davids shortly after 1 o'clock this afternoon.
The lone pilot was pulled out of the plane by the beach lifeguards on patrol, and treated by paramedics at the scene.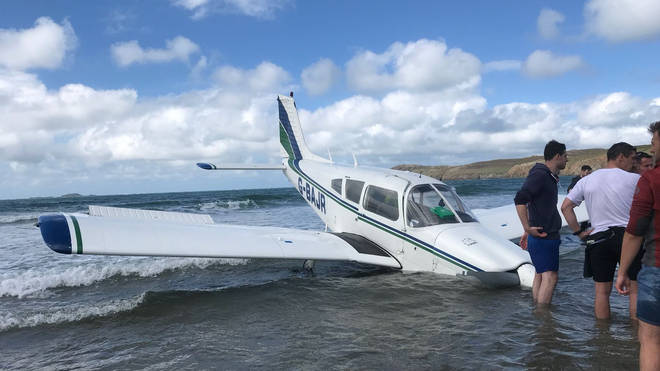 Pembrokeshire council confirmed that the aircraft had taken off from Haverfordwest Airport just 20 minutes earlier.
The owner of a nearby Bed and Breakfast said: "It's lucky it wasn't a week ago when the beach was much busier over school holidays.
"Today it's been quite windy so there weren't as many people around."