Your morning briefing, Wednesday 2 October
2 October 2019, 06:30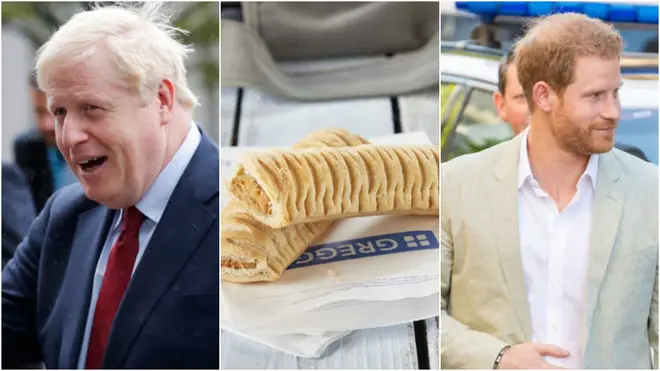 Good morning and here is the latest in UK news and world news you're waking up to on Wednesday morning.
Boris Johnson to unveil 'final' Brexit offer
The prime minister will lay down his plan for a Brexit deal during his first Conservative Party Conference speech, however Number 10 say this will be the UK's final offer.
They made it clear that the Prime Minister will not negotiate a delay at the EU Council on 17-18 October.
In his speech, Mr Johnson will also claim some members of the public "are beginning to feel that they are being taken by fools" and call to get Brexit done so "our country can move on."
He is expected to say: "Voters are desperate for us to focus on their other priorities - what people want, what Leavers want, what Remainers want, what the whole world wants – is to move on.
The PM will also use his speech on Wednesday to contrast his position with Jeremy Corbyn's policy of constant delay on Brexit, saying the opposition leader would bring more years of "chaos".
Senior Tory kicked out of Conservative Party Conference amid scuffle
Meanwhile, yesterday at the Tory party conference Sir Geoffrey Clifton-Brown was involved in what a doorman described as a "small misunderstanding" at the International Lounge in the conference centre.
The incident led to a temporary lockdown of part of the venue with the Cotswolds MP being asked to leave the conference after the "totally unacceptable" incident.
Sir Geoffrey was reportedly trying to enter the room with his wife who did not have the relevant pass.
A party spokesman said: "Geoffrey has been asked to leave Conference and we are establishing all of the facts to see if further action is necessary.
"We will always adopt a zero tolerance approach to any inappropriate behaviour towards our hardworking staff."
Harry and Meghan to sue Mail on Sunday
The Duke and Duchess of Sussex will sue the Sunday paper for the publication of a private letter written by Meghan.
Prince Harry said he believed the Duchess of Sussex had been the victim of a "false and malicious" media campaign in a strong statement where he also referenced his mother, Princess Diana.
He said: "[I have] seen what happens when someone I love is commoditised to the point that they are no longer treated or seen as a real person. I lost my mother and now I watch my wife falling victim to the same powerful forces."
The couple's law firm, Schillings, said they had initiated legal proceedings against the Sunday paper and its parent company Associated Newspapers over the "breach of privacy and infringement of copyright."
The Duke added: "There comes a point when the only thing to do is to stand up to this behaviour, because it destroys people and destroys lives. Put simply, it is bullying, which scares and silences people.
We all know this isn't acceptable, at any level. We won't and can't believe in a world where there is no accountability for this."
Romanian gang who stole millions of pounds worth of goods jailed
Five Romanian nationals who terrorised homes across the West Midlands and surrounding counties were jailed at Birmingham Crown Court on Tuesday.
The gang were linked to roughly 400 break-ins whilst targeting affluent areas in the West Midlands, West Mercia, Staffordshire and Gloucestershire for cash and jewellery.
CCTV footage released by police showed the ringleader Catalin Zaharia using a bed sheet to climb up through a first floor window at a home in Castle Bromwich, Birmingham on 15 January 2017.
Despite operating from 2014 to 2018, a breakthrough was made last September by police after they caught Zaharia throwing a bag of jewellery from a stolen, uninsured car on the M6.
West Midlands Police Sergeant Sandy Thompson said the gang had caused untold heartache, worry and inconvenience for residents across the region.
Greggs stockpiling pork for sausage rolls
High street bakery chain Greggs is stockpiling pork to guarantee supplies for its sausage rolls in the event of a no-deal Brexit.
Greggs' sausage roll is an integral part of its brand and the company estimates it sells more than two million a week, hailing it "a British classic".
"We are preparing for the potential impact of the UK's departure from the European Union by building stocks of key ingredients," the firm said.
The Guardian reported that Greggs is also preparing to stockpile bacon and tuna, and has begun sourcing all its cheese and most of its sugar in the UK, rather than through European suppliers.
The firm has been acquiring some delivery lorries to minimise the disruption to the flow of goods into the UK.