'I did the Barbenheimer double billing. Both films are great - but don't watch them together'
23 July 2023, 06:54 | Updated: 23 July 2023, 12:07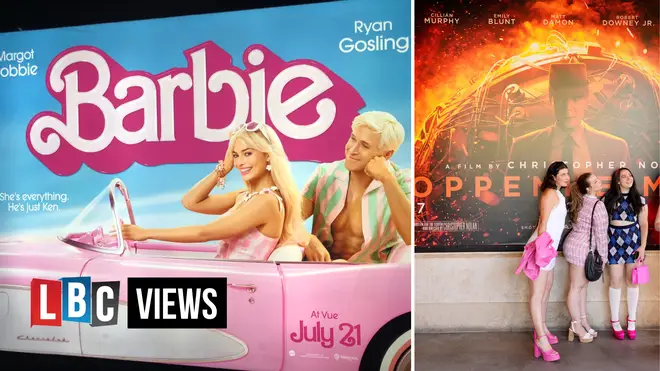 Barbenheimer, the movie trend that has everyone talking.
A huge number of moviegoers across the world flocked to see both Oppenheimer and Barbie this weekend - two very different films, yet so closely intertwined after a social media trend took a hold of both movies.
One film, a deeply intense historical drama about J. Robert Oppenheimer's role in the creation of the atomic bomb. The other, a thought-provoking comedy about the legendary Barbie Doll.
In other words, a perfect example of a cinematic yin and yang.
The concept of watching the two movies back-to-back started largely on social media, but quite quickly spread beyond.
Even Barbie's Margot Robbie and Greta Gerwig encouraged moviegoers to position them as a double bill.
And when UK Prime Minister Rishi Sunak hopped on the trend, you knew Barbenheimer had become a full-blown movie phenomenon.
But did Barbenheimer live up to the hype? Well, it's complicated.
I'd been on the Barbenheimer train for weeks and was insistent on watching the more serious, brooding Oppenheimer first before balancing it out with the more light-hearted, fun Barbie.
It seemed to make sense, but as more and more information about the two movies came out, I began to doubt whether they even work as a double bill at all.
While the conflicting duo worked to create the perfect social media trend (and marketing strategy for movie studios), watching them back-to-back actually harmed the overall viewing experience.
Oppenheimer was a long, enthralling historical masterpiece. The cast was incredible, with particularly impressive performances from Cillian Murphy and Robert Downey Jr.
Read More: Film stars walk out on Oppenheimer premiere as largest Hollywood shutdown in 40 years launched
There was one scene in particular, which I won't spoil, that felt so chilling, it will surely secure Murphy as, at the very least, the frontrunner to win the next Best Actor Oscar.
The soundtrack was also immense, giving you a constant feeling of uneasy anticipation, in true Christopher Nolan style.
It is a movie masterpiece, one that only gets better and better the more you mull it over. But therein lies the problem - going to watch Barbie an hour later took that post-movie mull away.
During the first 30 minutes of Barbie, all I could think about was the incredible scene between Murphy's Oppenheimer and Albert Einstein.
Not exactly the best thing to think about as you try to adjust to Ryan Gosling playing a goofy Ken doll.
Read More: Welcome to Barbie Land: Fans queue from 4am for glimpse at Margot Robbie and Ryan Gosling on the pink carpet
In no way is any of this to put Barbie down. It was just as unique in its approach to tackling well-known concepts, yet with the filmmaker's stamp all over it.
While Robbie was unsurprisingly fantastic, the real standout for me was Simu Liu, who acted as the perfect (Ken)emesis for Gosling's version of the character.
More than a meme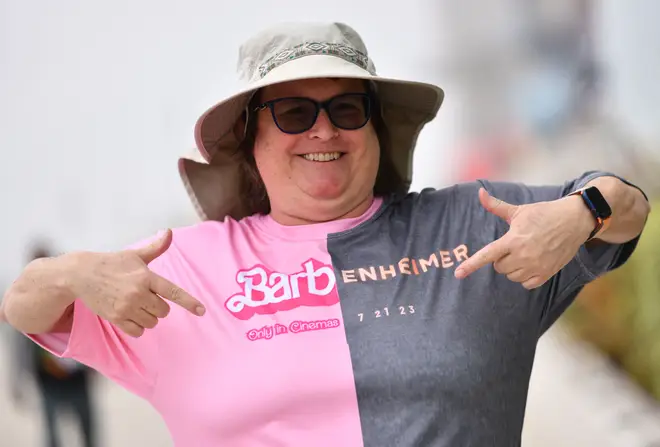 Looking beyond the Barbenheimer meme, the immediate viewer experience, or whether they can be watched back-to-back, it's clearly more than just a meme.
Instead, it feels like an incredibly significant moment in cinematic history, particularly as movie theatres continue to struggle to battle the growth of streaming and recover from the pandemic.
Even if it was just for a weekend, there was no sign of any cinemas struggling with Barbenheimer in town.
Around 10,000 moviegoers are thought to have seen both movies in Odeon cinemas alone, while data from Vue suggests 22 per cent of customers who booked tickets to Oppenheimer also booked tickets for Barbie.
Clearly, the revenue from such demand represents a big boost for movie theatres, but also the fans, who are the ultimate beneficiaries of two incredible movies.
It was so refreshing to see my local cinema absolutely packed and buzzing on a Saturday night, with everyone in such good spirits.
There were even some people dressed in all-black suits, and others in beach outfits to match the style of each film. As the social media meme went, cigarettes and coffee before Oppenheimer, cocktails for Barbie.
Abbey Bamford, who went to see Oppenheimer before Barbie, told LBC the atmosphere was "electric" in the cinema during both films.
"It was really cool to see both films one after another. There were a few people I recognised when I went to see Barbie after Oppenheimer. You could tell everyone was just really buzzing to be there," she said.
Maybe Barbie and Oppenheimer weren't best-suited as back-to-back screenings, but their significance goes beyond that.
Let's hope they're the dynamic duo that could reinvigorate the demand for top quality movie-going experiences that could save cinemas long-term.