Lucy Letby Sentence: Can the law require attendance at a sentencing hearing? Writes Joseph Kotrie-Monson
21 August 2023, 16:54 | Updated: 22 August 2023, 06:27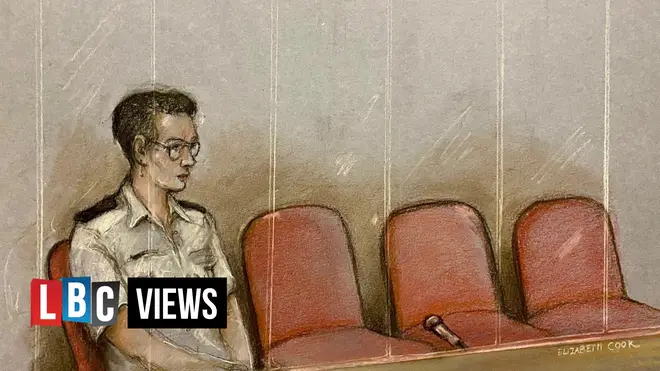 The case of Lucy Letby, the worst child homicide case since the Moors Murders, has led to feelings of horror, disgust and anger across the nation and even abroad where it has also been reported.
Beyond the disbelief that a woman responsible for the care of newborn babies could perpetrate such acts, many are also furious that once convicted on a second batch of counts, the murderer has refused to enter court to hear her sentence pronounced publicly, and in the presence of the parents and families of her victims.
In sentencing hearings, it is now common practice for victims to read a victim's personal statement, also known as a victim impact statement, or have one read out on their behalf.
This gives victims, especially of violent crimes, a chance to feel that not only was justice done, but the detail of their suffering at the hands of the criminal was properly heard.
In murder cases, many families treat this public statement, and the opportunity to make it in the presence of the murderer, as part of the process of grieving, a final duty to their loved one.
In recent years, however, perhaps as a result of the first widely reported case of a defendant refusing to attend - that ten years ago of Manchester police killer Dale Cregan - defendants have become increasingly aware of a practical inability of judges to demand they attend this hearing, which of course is rightly often unpleasant and shaming for them. Thomas Cashman, the killer of poor 9-year-old Olivia Pratt-Korbell, was a more recent example in April of this year.
In the case of Lucy Letby, where so much yet remains unanswered, not least for families why their babies were chosen, and how she was able to deceive medical managers so easily against the strong views of senior doctors, the principle of a justice process behind closed doors, or without the participation of the evil architect herself, falls short of its duties to them.
What is the legal position?
The truth is that in practical and legal terms judges do not have the power to compel attendance. The government has continually attempted to suggest that there is a two-year penalty for non-attendance already in place.
This is of course largely irrelevant to a defendant who faces a sentence of more than 30 years, as is often the case. It is even less of a motivator to someone like Letby facing a whole life sentence.
What is more interesting is where the government has got this two-year provision from.
As legal commentator Joshua Rozenberg KC points out, they are probably referring to the two-year penalty for contempt of court, and Rozenberg goes on to say correctly that this penalty has never been tested by an appeal court.
In my view, it is unlikely it will be, as judges will be unlikely to trouble themselves with it when they can elevate a sentence for murder based on the way in which a defendant has behaved in proceedings.
It has been suggested elsewhere that judges can in fact already order the forcing of a defendant into court under their inherent powers under common law.
This would require the cooperation of the prison service, transport staff, and court employees, both public and private. Without legislative instruction from parliament, judges simply won't do it.
How would that legislation look? Presumably the bringing of defendants in handcuffs into the courtroom.
Probably it would also then raise some logistical problems.
A disruptive defendant is not the goal. Shouting and screaming during a sentencing hearing doesn't do the occasion much in terms of dignity, and the typical punishment for disrupting a hearing with bad behaviour is typically removal to the cells, or punishment of further prison for contempt of court.
Neither serves the purpose. Short of gagging defendants, which would be problematic from a number of points of view, this is probably what makes compelling a defendant to attend ultimately unworkable.
The alternative view might be that defendants who know that the post-Dale Cregan trick of not attending doesn't work anymore will simply come into court to avoid the trouble.
Not coming into court is currently easy. If it's made harder, maybe defendants will roll over.
This is where there the question boils down to speculation about whether it will be a disaster, far from the dignified and meaningful moment that families want. Is there a real chance that this disturbing and entitled approach to attendance being optional in these cases will be that easy to eradicate?
This lawyer doesn't know the answer to that.