"At Least Someone Got A Landslide" PM Jokes As John Bercow Is Re-Elected Speaker
13 June 2017, 16:41 | Updated: 13 June 2017, 16:43
Theresa May poked fun at her poor election result today as the House of Commons returned to business.
The Prime Minister used the re-election of Speaker John Bercow to mock the Tories' failure to secure a majority by saying: "At least someone got a landslide".
Mrs May's personal jibe was welcomed with jeers and laughter in the Commons - including Mr Bercow himself.
The new parliament returned after the Prime Minister failed to secure the huge mandate she was hoping for.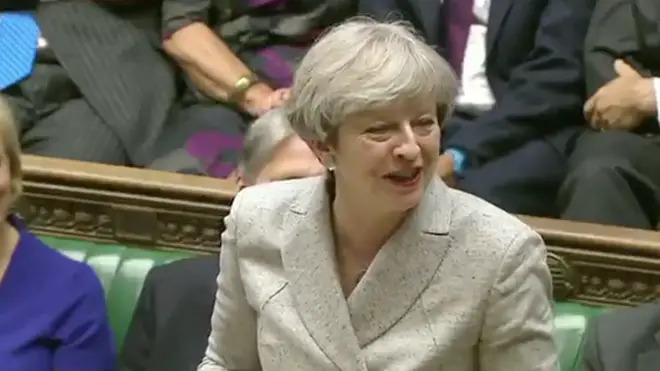 However, it wasn't the just the Tory leader who was up for cracking the jokes.
Jeremy Corbyn used his return speech to mock Mrs May's campaign slogan which was repeated numerous times throughout the campaign.
He told the chamber that: "The Labour Party stands ready to offer strong and stable leadership in the national interest".
Watch the Prime Minister's gag in the video at the top of this page.