Forgive me… forgive me: PM loses place in business speech and rambles about Peppa Pig
22 November 2021, 11:15 | Updated: 22 November 2021, 14:58
Boris Johnson lost his place before rambling on about a visit to Peppa Pig World in a major speech to business leaders today.
Mr Johnson's speech went off the rails after he lost his place, rifling through his notes, muttering "forgive me..forgive me" repeatedly and "blast it".
He then began a lengthy verbal wander where he explained how Peppa Pig World can be a model for UK businesses after visiting the attraction yesterday.
Losing his place, he said: "… with fantastic broadband…blast it…. ergh…forgive me."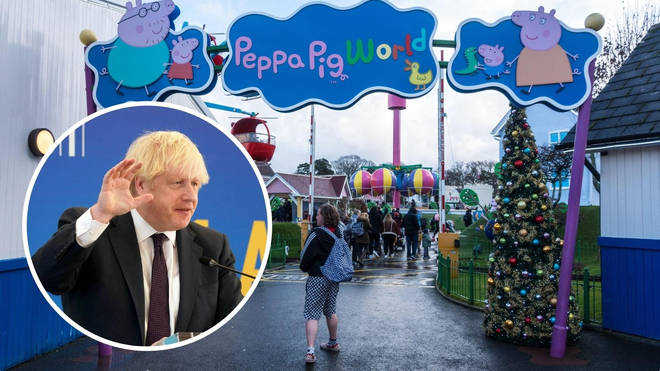 Recounting his visit to Peppa Pig World, he said: "Yesterday I went to Peppa Pig World... I loved it, it's very much my kind of place.
"It has very safe streets, discipline in schools, heavy emphasis on new mass transit systems I notice, even if they are a bit stereotypical about Daddy Pig.
"But the real lesson for me, going to Peppa Pig world, I'm surprised you haven't been there, was about the power of UK creativity.
"Who would have believed that a pig that looks like a hairdryer or possibly a Picasso-like hairdryer, a pig that was rejected by the BBC, would now be exported to 180 countries with theme parks both in America and China?"
During the rambling speech he also quoted Lenin and referred to himself as Moses. He also impersonated an accelerating car saying: "Broom broom brah brah!"
LBC's Political Editor Theo Usherwood gives his analysis
The Prime Minister's speech to the country's leading business leaders at the CBI's annual conference is supposed to be a serious one.
The chance to set out the Government's agenda for the forthcoming 12 months.
And because of Covid, today was the first time Boris Johnson had addressed the CBI face-to-face for two years.
But instead of it providing a moment to set the tone of the post-pandemic recovery and outline the Government's plan to invest in green technology, it went badly wrong.
To start with, it didn't appear the PM had quite judged his audience correctly.
There were the car impersonations and self-comparisons with Moses.
And then we had a deviation into what Peppa Pig signified when it came to British creative industries, even if personality traits of Daddy Pig, who likes to take trips in the car and read a newspaper, were not necessarily in tune with modern times.
That was not before the Prime Minister, who writes his own speeches, and likes to read from a paper copy rather than autocue, found his papers were not in the right order, causing a painful confusion for 15 seconds or so.
There are of course much bigger pitfalls ahead of the PM later this week, not least tonight's vote on the Government's social care reforms.
By the time the PM finally finished his speech, the only question left to ask by one reporter was: "Is everything ok?"
In the wide-ranging speech Mr Johnson also urged people to take up their booster jabs to ensure continued economic growth after the hit caused by the Covid-19 pandemic.
He told business leaders at the CBI conference in South Shields: "Get you booster as soon as you can because it is by vaccinating our country that we have been able to get your staff back to their place of work, to open our theatres, our restaurants and get back for longer now than any comparator country, to something like normal life."
He also defended scaled-back plans for railway investment, insisting the schemes would still be "transformatory".
"It is fantastic, another £96 billion on improving rail services in this country, that is three new chunks of high-speed line," he said.
The plans unveiled last week saw the HS2 leg from Birmingham to Leeds abandoned while the Northern Powerhouse Rail route from Liverpool to Leeds will run partly on existing lines rather than new ones.
The Prime Minister said: "It's a fantastic thing, it's transformatory, nothing seen like it for a century."