Boris Johnson's 'healing' plea falls flat as 1 in 5 admit arguing over election result
19 December 2019, 22:26
Boris Johnson's plea to "let the healing begin" after a divisive general election seems to have fallen flat after it was revealed one in five people have argued about the result.
Mr Johnson returned to the Commons this week following the election - but this time with a stonking majority of 80 Conservative MPs.
Labour on the other hand had a disastrous night, losing 59 seats in areas which have previously never been blue before.
But according to newly released figures by YouGov, 22 per cent of Brits have admitted getting into heated debates about the outcome.
Over a quarter of Labour voters, say they have gone on to argue over the result, with 28 per cent admitting they had a disagreement.
In comparison, 20 per cent of 2019 Conservative voters say they have had an argument about the result.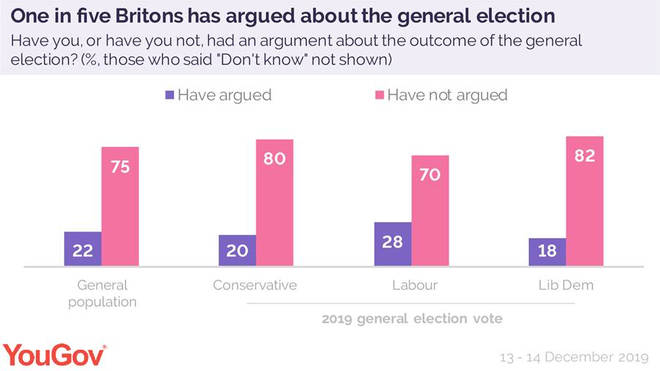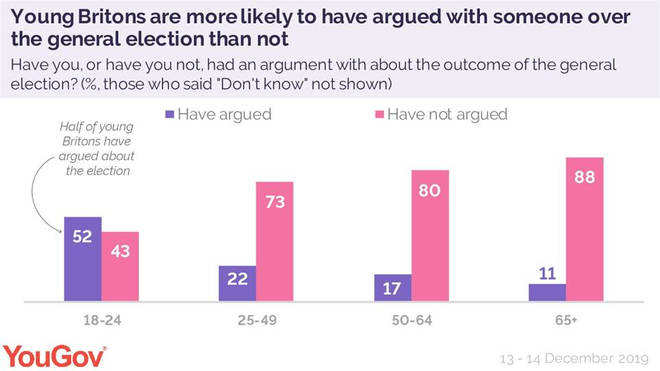 People aged 18-24 have been found to be the most likely to argue, with 53 per cent saying they've been caught in heated conversations - compared with just 4 per cent of over 65s.
Young adults are also twice as likely to have argued with strangers, with 15 per cent saying they have had a disagreement with someone they don't know compared to per cent of those aged from 25 to 49.
Arguments are most likely to break out between friends and family, with 10 per cent of Brits saying they have argued with friends and another 9 per cent bickering with family members.
And the squabbles are not limited to the home, with 6 per cent saying that have argued with colleagues as well as acquaintances as a result of the outcome. 
More shockingly, the same amount of people have admitted to arguing with complete strangers.