Cummings gives 'partygate' evidence to Sue Gray as pressure mounts on beleaguered Boris
24 January 2022, 00:21 | Updated: 24 January 2022, 15:41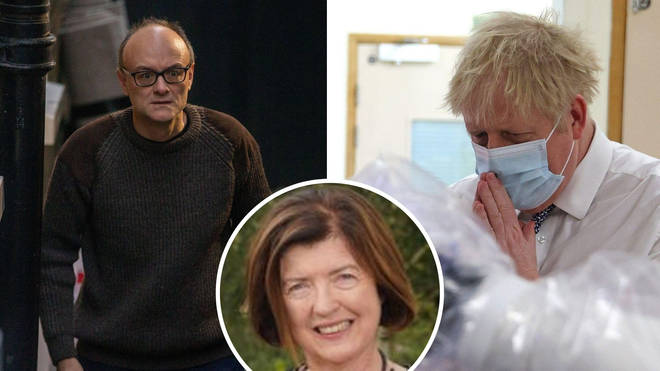 Dominic Cummings has heaped pressure on Boris Johnson as the embattled PM looks to cling on to his job.
Mr Johnson's former top adviser, who has waged a war of words on his beleaguered ex-boss since explosively quitting in late 2020, has said he submitted written evidence to Sue Gray, he confirmed on Monday via his blog.
The civil servant is leading the probe into numerous claims of lockdown-breaching parties and is in contact with the Met. It is thought she could reveal her findings this week.
It is not known what Mr Cummings revealed but his time in Government covered all of the first Covid lockdown.
He has not held back in taking chances to fire shots at Mr Johnson, pictured running on Monday morning, on Twitter and his subscription blog.
Mr Cummings, who said he would be willing to swear under oath that the PM "waved... aside" his concerns about the May 2020 BYOB do in the No10 garden, was pictured leaving his London home on Monday morning.
In his blog, Mr Cummings said "other damaging stories" would emerge until Mr Johnson is ousted.
He said he told Ms Gray to tell her they should exchange written answers because "if we speak, the PM will invent nonsense and spin it to the media and you and I will both have problems".
"Let's keep everything in writing, therefore he cannot invent things I've supposedly said to you, there is only a written record, this makes both our lives easier," he said he told her.
"She agreed. So I have answered questions in writing and will answer further questions in writing if she wants.
"But I will not speak and therefore provide the PM with more chances to lie and confuse everybody."
Meanwhile, Downing Street police have given 'extremely damning' evidence to Sue Gray's partygate inquiry about the alleged lockdown-breaking gatherings in No10.
Officers from Scotland Yard's Parliamentary and Diplomatic Protection Command, who were guarding Downing Street when the gatherings took place have spoken to Ms Gray ahead of her much-heralded report.
The paper said officers who were on duty when a series of alleged lockdown-breaking gatherings took place have given testimonies about what they witnessed, with one source describing them as "extremely damning".
A source told the Telegraph: "Met officers have spoken to Sue Gray now, as you would expect, and have been able to provide a lot of information."
Asked how significant the material was, the source added: "Put it this way, if Boris Johnson is still Prime Minister by the end of the week, I'd be very surprised."
The revelation comes just hours before the PM's former top advisor turned lead critic Dominic Cummings is due to speak to Ms Gray.
The Prime Minister is facing a series of allegations around gatherings said to have taken place at Downing Street while Covid lockdown measures were in place throughout 2020 and 2021.
Read more: Tory MP Nusrat Ghani questioned her place in politics amid 'Muslimness' storm
Read more: 'Kindest thing' for Boris Johnson's legacy would be for him to go, David Davis tells LBC
Speaking to LBC, London Mayor Sadiq Khan said Met Police should be able to police without "fear or favour", adding that no one should be victimised for providing information to authorities about "serious allegations"
He said: "The police service must police without fear of favour they shouldn't be worried about investigating one person because he or she is in a position of power or influence and not another person.
"It is really important that they investigate everybody truly and fairly. Similarly anybody, if you are a police officer or not, has any information or evidence in relation to serious allegations, they should report it to the authorities.
"Nobody is going to be victimised for coming forward and I am sure the police who are being spoken to by Sue Gray will be fully cooperative, they will answer truthfully and they will help her with their inquiry."
Downing Street police have officials have admitted to 'holding back information' as part of Sue Gray's partygate probe, which has also seen her quiz police working in the building including No10 police.
The PM tasked senior civil servant Sue Gray to look into the events, with a final report expected to be on the way this week.
However, several No10 officials have already claimed they held back some of their evidence due to a "culture of fear" surrounding the probe.
Messages and pictures were not disclosed following warnings from a senior member of staff to remove anything that could cause speculation, three sources told The Independent.
The contents of a particular WhatsApp group were said to show people drinking and dancing, as well as references to how hungover they were the next day.
A No10 spokesperson denied the claims, telling the paper that allegations about pressure on individuals were "categorically untrue" and staff have been instructed to comply fully with the inquiry.
Ms Gray is thought to have spoken to the PM, civil servants and political advisers during the investigation.
She is also reported to have accessed security pass logs and Mr Johnson's official diary.
Mr Cummings had said that he was prepared to swear under oath that Boris Johnson lied to Parliament about a "bring your own booze" party that took place in May 2020 while England was in lockdown.
He claimed that Mr Johnson was aware of the gathering in advance, despite the PM insisting that he believed it was a "work event" in the Commons.
Mr Johnson issued a humiliating apology to Parliament earlier in January, confessing that he had attended the gathering for 25 minutes.
A Downing Street spokesperson said: "It is untrue that the Prime Minister was warned about the event in advance.
"As he said earlier this week, he believed implicitly that this was a work event.
"He has apologised to the House and is committed to making a further statement once the investigation concludes."