Boris Johnson refuses to be drawn on Jacob Rees-Mogg's future
29 November 2019, 09:52
Boris Johnson refused to be drawn on the future of Jacob Rees-Mogg after his comments on Grenfell Tower to LBC.
The Prime Minister was exclusively speaking to LBC and taking listeners calls amid claims he was avoiding scrutiny during the election campaign.
When LBC's Nick Ferrari asked, "after his comments to me on Grenfell where is Jacob Rees-Mogg?"
"Jacob is off campaigning," Mr Johnson answered, but would not comment on what he had said to the Conservative MP.
His public appearances on the national stage and in the media of late have been few and far between amid claims he has been sidelined until polling day on December 12.
There is now mounting speculation that he's been told to keep a low profile since his damaging comments on LBC.
Nick asked the leader of the Tories if he would "bring him [Rees-Mogg] back" if the Conservatives are successful at next month's general election.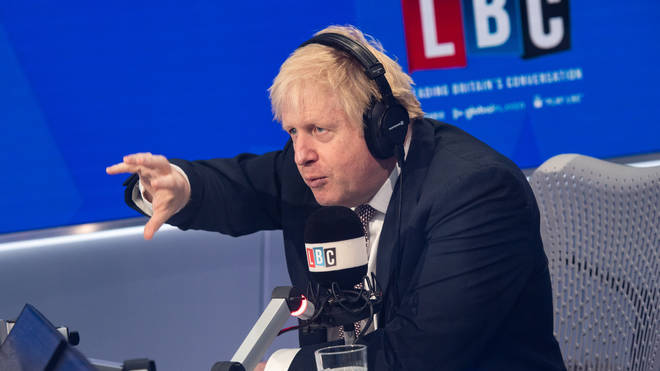 "I'm not going to get into measuring up the curtains type conversations," Mr Johnson said.
"Hang on," Nick Ferrari said, "Sajid Javid can stay at Number 11, will Moggy be able to recline in feline excellence on the bench of the House of Commons?"
Again the Prime Minister refused to be drawn on the subject, he said, "that all comes under the general category of measuring up the curtains."
The questioning came after Jacob Ress-Mogg made controversial comments while speaking to LBC presenter Nick Ferrari.
The Tory MP suggested Grenfell Tower victims should have used "common sense" to ignore the London Fire Brigade's stay put policy.
He said: "I think if either of us were in a fire, whatever the fire brigade said we would leave the burning building. It just seems the common sense thing to do and it is such a tragedy that that didn't happen."
Mr Rees-Mogg has since "profoundly" apologised for his words but has been slammed by the Brit-award winning grime artist Stormzy, who took to Twitter to condemn the Leader of the House of Commons.
Watch the whole hour of Boris Johnson being grilled by LBC listeners here.