Extinction Rebellion protesters glue themselves to Jo Swinson's electric bus
4 December 2019, 10:43
Protesters from Extinction rebellion, dressed as bumblebees, have glued themselves to Jo Swinson's election battle bus while at an event in Streatham
The climate change group said six of its activists had targeted the Lib Dem battle bus to demand that "climate and ecological emergency is top of the agenda this election."
"The protest, going by the name 'Bee-yond Politics', is being carried out to remind politicians of the irreplaceable biodiversity loss that is a direct result of their poor, irresponsible policy-making," a spokesperson for the group said.

Liberal Democrat Shadow Chancellor Ed Davey said: "It is great to see our campaign creating such a buzz around tackling the climate emergency. Extinction Rebellion have played an important role, alongside the school climate strikes, in putting this crucial issue front and centre of this election.
"We know there is no planet B. The UK needs a government that will put protecting our planet at the heart of its ambitions.
"The Liberal Democrats have bold plans to achieve net-zero by 2045. Under a Liberal Democrat government we will generate 80% of our electricity from renewables by 2030, insulate every home, ensure every car sold is electric and plant 60 million trees a year.
"Only the Liberal Democrats have a plan to build a brighter future for our planet."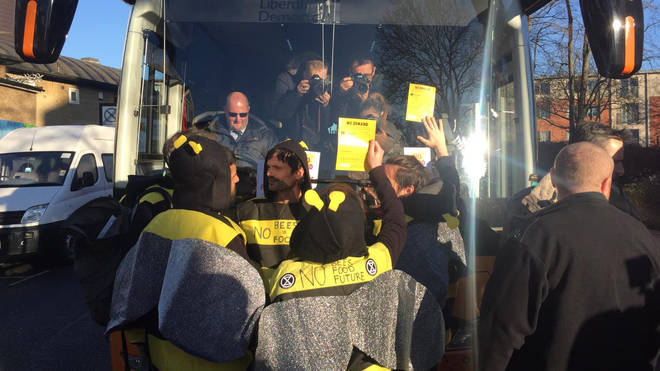 The climate change group says: "Activists wanted to plant the plight of bees and other pollinators fully in the minds of the next Prime Minister and to remind them that they hold the future of life in their hands.
"Our bee population is being threatened by extreme weather and habitat destruction, bringing with it crop instability and food vulnerability."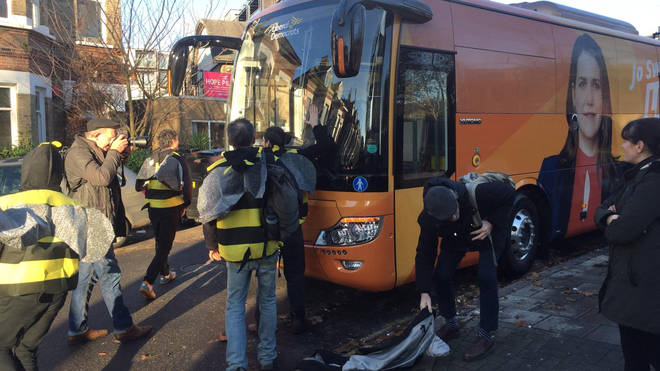 Pete McCall, who said he used super glue to attach himself to the bus, told the PA news agency: "All the parties are being targeted today."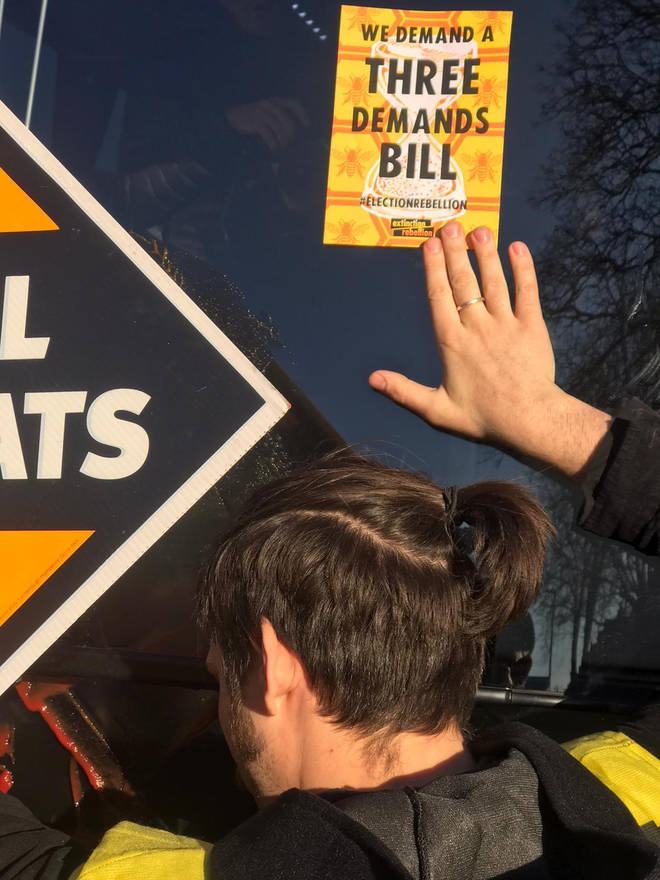 Mr McCall was among a number of protesters dressed as bees who targeted the bus ahead of a south London campaign visit by Lib Dem leader Jo Swinson to the Knights Youth Centre in Streatham.