Jeremy Corbyn and Boris Johnson clash over Brexit in TV debate
6 December 2019, 23:46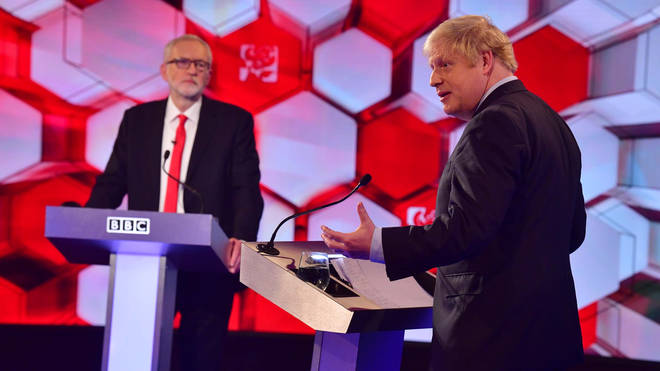 Boris Johnson and Jeremy Corbyn came to blows over their different visions for Brexit during the final head-to-head TV debate of the election campaign.
The two leaders clashed over several issues including Brexit, the NHS, national security and hatred in politics during the hour-long show.
Labour's chief warned of "chaos" and "huge job losses" if the Conservatives are unable to strike up a free trade deal with the EU.
Mr Corbyn used the televised debate to once again highlight leaked Treasury documents released earlier in the day.
He claimed that the paperwork revealed the prime minister's Withdrawal Agreement would create checks and restrictions on goods flowing between Britain and Northern Ireland.
Mr Johnson refuted the accusation, saying it was "not true."
"I do find it slightly curious to say the least to be lectured about the union between Great Britain and Northern Ireland by a man who all his political life has campaigned to break up that union and actually supported for four decades the IRA their in their campaign violently to destroy it," he added.
The Labour leader then asked the prime minister to show a "degree of honesty" about the plans for Northern Ireland.
"He spoke at the DUP conference and said there would be no restrictions whatsoever. We now know there are restrictions. He could and should have said that at the time," he said.
Mr Johnson later grilled Mr Corbyn on his "neutral" Brexit stance and his ability to negotiate a new trade deal with the EU.
"Who is going to negotiate it because as far as I can see everybody on the Labour front-bench is campaigning to Remain apart from Mr Corbyn who is neutral on the matter?" he asked.
"How can you get a deal, a new deal from Brussels for Brexit, if you don't actually believe in it? That's the mystery that I fail to understand."
The pair were also involved in a number of angry exchanges over racism and anti-Semitism.
Mr Johnson accused his rival of a "failure of leadership" in his handling of anti-Semitism in the Labour Party.
Mr Corbyn responded saying he "never used racist language" and hoped Boris regretted his past comments.
The Tory leader also dismissed John Major's efforts to intervene on the election campaign on Friday.
The former prime minister suggested he would support former Tory MPs now standing as independents after having the whip withdrawn.
Immediately after the debate, YouGov released a snap poll that showed 52 per cent of those who voted believed Boris Johnson had the best performance.
Similarly, just over half of those polled also thought that the Tory leader was more likeable.
However, only 38 per cent thought the prime minister was more trustworthy, compared to 48 per cent for Mr Corbyn, and almost double the number of people thought the Labour chief was more in touch with ordinary people.
Chris Curtis, YouGov's Political Research Manager, said: "Our snap poll shows that the public remains divided on who won the debate, just as with last month's head-to-head, with most Labour voters thinking Jeremy Corbyn won, most Conservative voters thinking Boris Johnson won, and very few people changing their minds.
"But given the Conservatives went into this debate in the lead, they will hope the lack of a knockout blow means they can maintain this until voting day."
Liberal Democrat leader Jo Swinson took to Twitter to condemn both leaders, saying: "Neither of the men on stage tonight are fit to Prime Minister.
"Neither of them can be trusted with the keys to Downing Street. Neither of them will #StopBrexit."