Labour politician apolgises for 'culture of anti-Semitism' within party
5 December 2019, 06:18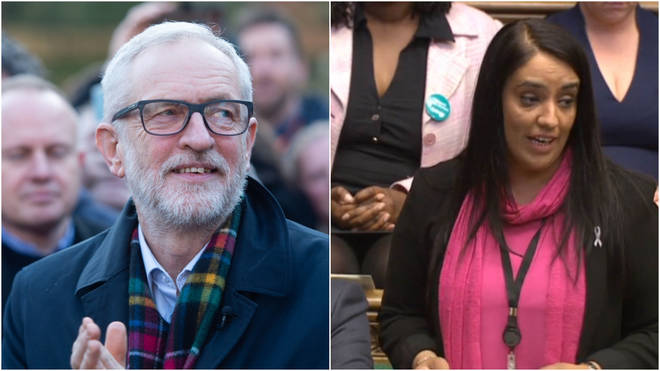 A Labour politician has pledged her party will work to rebuild trust with the British Jewish community and bring "social justice" if they win a majority at the election.
Naz Shah, Labour's Bradford West candidate, was speaking at the Jewish community's national hustings in London on Wednesday where she apologised for a "culture of anti-Semitism" within her party.
The comments come just days after party leader Jeremy Corbyn offered an apology after being criticised over his silence over accusations of anti-Semitism within the Labour Party.
Labour's General Election campaign has been dogged by allegations of anti-Semitism, in a rare political intervention Britain's Chief Rabbi even issued a stark warning about Labour coming to power, saying that most Jewish people are "gripped by anxiety" about the prospect of Jeremy Corbyn as Prime Minister.
Lib Dem foreign affairs spokesman Chuka Umunna, who also appeared at the event with Ms Shah, said Labour were "defending the indefensible" and alleged party leader Jeremy Corbyn was "clearly racist".
Jewish voters had the opportunity to question Ms Shah, Mr Umunna and Conservative Communities Secretary Robert Jenrick at the JW3 building in Finchley Road, with political correspondent Tamara Cohen chairing the event.
Ms Shah was suspended by the Labour Party in 2016 over anti-Semitic posts on Twitter and Facebook.
Ms Cohen asked the panel what they would be doing to tackle anti-Semitism and Ms Shah said: "I recognise the problems within my party and I know that we did not act quickly... and I am sorry for this."
Ms Shah, who was reinstated by Labour in 2016 after apologising for her social media posts, added Labour would educate the British public on its "full history" including a focus on the Jewish community.
But Mr Umunna accused "good people" in the Labour Party of "defending the indefensible" and "defending a man who is clearly racist".
He praised Ms Shah for her own journey and "owning up to her mistake" but added: "It is racism pure and simple, and people keep on making excuses for him [Mr Corbyn] and they are sponsoring him to become the prime minister of our country."
Mr Umunna, who left Labour in February and joined the Lib Dems in June, also asked Mr Jenrick how he could support Boris Johnson over his comments on a range of minority groups including Muslim and black women and single mothers.
"Two leaders who have no moral authorities to become prime minister whatsoever," he added.
But Ms Shah hit back, saying: "There isn't a hierarchy on racism. Racism is racism. One racist is one too many.
"On this panel there is nobody that disagrees that there is a problem in the Labour Party. And we have a culture that we need to address."
Another issue raised at the hustings was how the parties would tackle terrorism and protect the British public following the recent London Bridge attack.
Mr Jenrick said his party would "take a closer look at the terrorists that had been jailed but released early".
He then added that "robust action" had to be taken to protect the Jewish community and that it was "shameful" to see people wearing stab-proof vests outside places of worship because they feared being attacked.
Mr Umunna said the main focus should be to understand why young men were being radicalised in the first place and create a system to prevent that happening.
He said "a lot of these young men don't feel as though they belong" and added such people needed to be integrated into British society.
The event was organised by Jewish News together with the Jewish Leadership Council, Board of Deputies and JW3 ahead of the General Election on December 12.