Lib Dems launch war on plastics and end the UK's 'addiction'
26 November 2019, 08:42
The Lib Dems have announced plans to "end the UK's addiction to plastic" by banning all non-essential non-recyclable single-use plastics within three years.
Under a majority Lib Dem government the party have said they would aim to place a duty on retailers to reduce the amount of waste each home produces.
The party have said they would require all retailers to reduce the amount of plastics and non-recyclable packaging they use, implement a deposit return scheme for plastic items, and end plastic exports abroad by 2030.
Jo Swinson has also pledged to separate food waste collections across 90 per cent of homes by 2024, plant 60 million trees a year and permanently ban fracking as part of the party's moves to help the environment.
The Lib Dem spokesperson for Energy and Climate Change, Wera Hobhouse said her party was demanding better for the environment, and there should be a plan to end plastic pollution in the sea.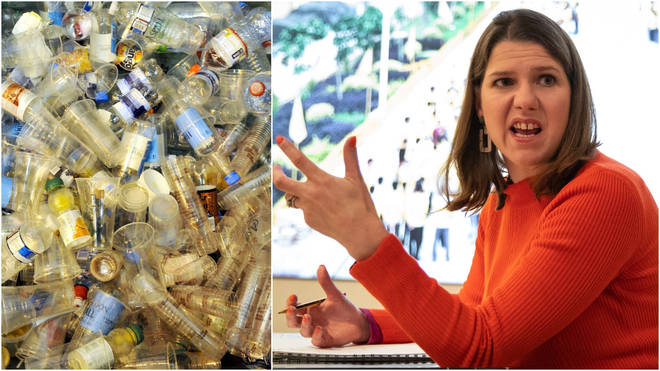 She said: "The UK produces 2.26 million tonnes of plastic packaging every year, but less than half of this is being recycled. The Conservatives have claimed they will cut plastic pollution but all they have done in reality is attempt to get headlines with piecemeal bans on straws and stirrers.
"The Liberal Democrats demand better for our environment. We need a rapid plan to eliminate plastic pollution if our seas are to recover from the damage we've done.
"That is why the Liberal Democrats are proposing a radical plan that will end the UK's addiction to plastic. By banning all non-essential non-recyclable single-use plastics within the first three years of a Liberal Democrat government we will stop huge amounts of plastic pollution.
"Under the Liberal Democrats, no plastic put into a bin in the UK will end up in our oceans. By declaring a war on plastic the Liberal Democrats will ensure a brighter future for our planet."
Figures from the Lib Dems say the average UK home produces 1.1kg of waste every day and their plans would introduce a three-year target obliging retailers and other businesses to make their plastic packaging reusable, recyclable or eliminate it all together, starting with hard-to-recycle items, such as black plastic.
The Liberal Democrats deposit return scheme would include all food and drinks containers – aiming to end the 15 million bottles that are littered, landfilled and incinerated daily in the UK and reducing the £778 million a year we spend clearing plastic litter.
The Labour manifesto also had a large focus on the environment and recycling, with the party saying it will tackle the plastic pollution problem while also making "producers responsible for the waste they create."
The Labour's manifesto says: "Waste, including plastic waste, pollutes our land and seas, killing wildlife and contaminating our food. We will make producers responsible for the waste they create and for the full cost of recycling or disposal, encouraging more sustainable design and manufacturing."